The "Yesterday, Today, and Tomorrow" album by Knox City-based singer-songwriter David Moore takes listeners on a compelling musical trip through a compilation of songs recorded between the 1970s and the 1990s. Moore displays his musical skill by playing all instruments on the album, except Jim Patterson's electric guitar contributions in "You," "Rhyme Or Reason," and the chorus of "The Lemming Song." And with Dave Wilhelm's expertise drumming on "All I Ask" and "You," the album showcases a diverse spectrum of styles, from acoustic singer-songwriter to rock, with folk and country influences smoothly embedded into each track. Let me tell you more about the album as a whole below.
"Our Trip In The Sun," a whimsical and charming song that establishes the tone for the record, starts the album. With this tune, Moore creates an accurate portrayal of a man pondering about going to the beach with his girlfriend, expressing desire and nostalgia. The song's lighthearted melodies and warm acoustic tones create a wonderful ambiance, catching the listener's attention right away. David Moore's amusing vocals are not only wonderfully performed, but also have an utterly delightful influence on your senses with enriching layers of musicianship that would offer everyone who listens to it a great sense of appeal.
Moving on to "All I Ask," the album's tone shifts somewhat. The song adds a dash of rock energy to the album, with Dave Wilhelm's outstanding drumming matching Moore's creativity. "All I Ask" deals with the difficulties of relationships and the value of open communication in its lyrics. The catchy chorus and driven instrumentation of the song make it an obvious standout, and you'd be astonished at how beautifully everything works together. The passion in the vocals, tunes, and magnificent acoustics feels otherworldly and too enlivening to put into words.
"Christine" begins with some wonderful dreamy acoustic atmospheres that surround the listener before descending into a personal and passionate story. This song delves into the complexity of a relationship as well as the emotions that occur when two people struggle to find common ground. Moore's emotive voice and excellent guitar playing combine to create a soul-stirring ambiance that captures the essence of this emotional trip.
Moore's musical range is on display in "You," where he incorporates Jim Patterson's electric guitar work. The song's thoughtful lyrics and unwinding melody represent a relationship's path of self-discovery and personal progress. The combination of acoustic and electronic components gives richness to the song, resulting in a compelling audio experience.
With its addictive country-infused vibe, "Down By The Sea" is a welcome change of pace. It depicts a gorgeous image of peacefulness and calm by the sea, providing an enjoyable diversion from the album's reflective character. Moore's vibrant illustrations and musical melodies instantly make this track a favorite among those looking for a lighter, feel-good experience. David Moore has crafted a song that demands to be heard live, with what seems like nature's own vocals entwined with varied instrumental equipment.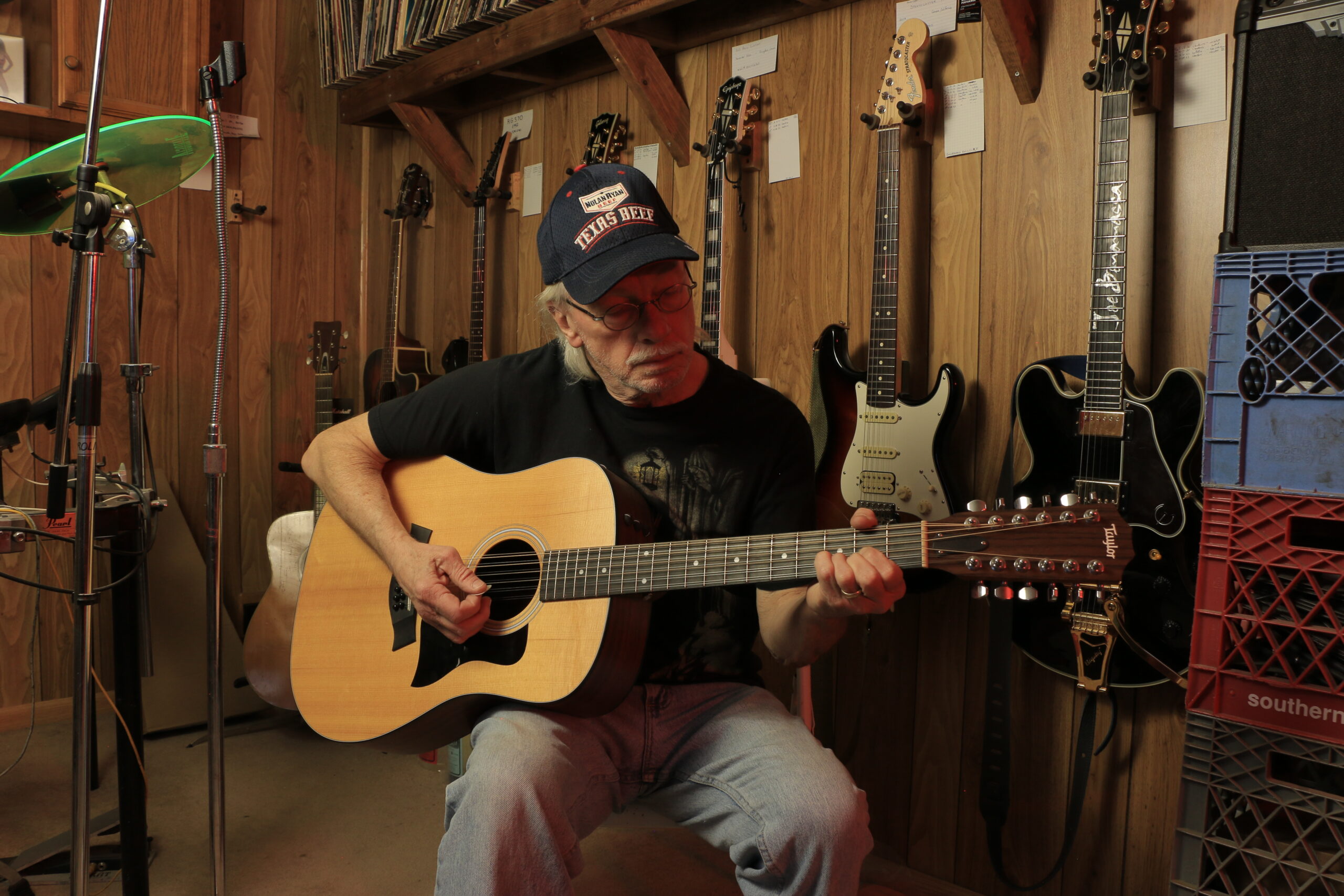 "The Lemming Song" stands out as thought-provoking music that questions the listener's view of humanity. Moore's perplexing lyrics urge us to ponder whether we are acting wisely and strategically or just responding emotionally and impulsively. The arrangement of the song effectively oscillates between acoustic and electronic components, giving depth to its message. With its intriguing musical movement, this song easily generates an atmosphere. It has a lot going on, yet everything is well blended to provide listeners with an enjoyable, and appealing musical experience.
"Rhyme or Reason" revisits Moore's personal experiences while incorporating rock and folk influences. This song delves into the intricacies of relationships, as well as the inherent difficulties of finding meaning and purpose within them. Moore's spicy vocals, along with the interplay of acoustic and electric guitars, provide a fascinating aural background for this introspective inquiry.
With its slow-paced rock-infused sound, "Worldly Girl" injects a dose of beauty into the record. The song is about a seductive and daring lady who defies the norm and loves life's events. Moore's bright guitar riffs and irresistible melodies make this song a highlight, with wonderfully lovely and compelling lyrics.
"Evil Weed" begins in an upbeat rhythm and acts as a cautionary tale, exposing the risks of addiction and its effects. The lyrics explore the complexity of substance dependence, emphasizing the value of perseverance and self-awareness. This song's bluesy overtones and gritty guitar work give it a feeling of urgency. Moore's innate ability shines through as he builds an ensemble of a lovely rock song with an enthralling contour that will have you rocking along.
The album is completed by the stunningly beautiful "Yesterday, Today, and Tomorrow." This introspective song connects the album thematically, highlighting the significance of introspection, growth, and seizing opportunities. Moore's emotive vocals, along with his exquisite guitar work, create a gripping climax that stays with the listener. The guitar strings on this song, do an excellent job of elevating and energizing the listener.
Overall, "Yesterday, Today, and Tomorrow" by David Moore is a brilliant album that demonstrates his flexibility as an artist and lyricist. Each song, from the serene acoustic landscapes to the frenetic rock-infused compositions, has its narrative and subject. Moore's contemplative and thought-provoking words, along with his outstanding musicianship, provide a mesmerizing musical journey for the listener on this album. "Yesterday, Today, and Tomorrow" is an acknowledgment of Moore's skill and forecasts a bright future for the endowed David Moore, with its numerous styles and seamless genre merging.
Listen to the "Yesterday, Today and Tomorrow" album by David Moore on Spotify, and let us know your thoughts.
You can follow David Moore here for more information.
Facebook