Fiona Ross, a multi-award-winning jazz singer-songwriter from London,  is recognized for crafting her modern jazz style and blends lively Latin jazz, vintage jazz club, and a little bit of soul, as well as heart-wrenching ballads. Her melodious singing abilities will make your heart skip a beat. Recently, she embarked on the daunting mission of capturing the spirit of daily living in her album, "Thoughts, Conversations, and To-Do List." This album, which was released on April 28th, is a stunning collection of 14 exquisite songs, each of which offers a distinct viewpoint on the intricate intricacies and a greater scope of human experience. Let's discuss the depth of this album below given that her musical genius displays brilliantly.
"When Will You Leave My Mind" sets the tone for the album's somber voyage ahead. Ross examines the idea of desire and the inability to let go, emphasizing the haunting presence of memories. Ross's vocals are deep and plunge deep into those feelings that provoke profound emotions as the pensive lyrics explore the repercussions of a breakup, which is combined with the catchy Latin guitar beat that produces a visceral emotional conflict within the framework of the song's swarming pace.
"I Want To Know More" comes next, conveying a confident and parading demeanor. Ross sinks into the urge to broaden one's horizons with a feeling of curiosity and a quest for knowledge. This song delves into the idea of seeking greater insight and the need for ongoing growth and learning. And, with confident vocals, this song displays Ross' incredible producing abilities. Her deft selection of colorful and mesmerizing components to create such an immersive atmosphere is extraordinary. In every sphere of creation, this track is flawlessly balanced. It's wonderful and captivating.
The saxophone-laden "The Small Things" takes a somber and meandering turn, delving into life's nuances and missed facets. Ross pays homage to the beauty and value of the small moments that sometimes go undetected in our fast-paced life with this song. Also, it emphasizes the value of mindfulness while celebrating the joy and thankfulness found in embracing life's tiny pleasures. This song belongs to my playlist and will be there in perpetuity. Fiona Ross Lace's genuineness and charm are wonderful. It hits the heart from within.
The album takes an unexpected detour with "When You Walked In The Room," as love and romance take center stage in this lovely tune. With this song, Ross captures the transformational power of connection when a particular figure enters the room, bringing the feelings and exhilaration that come with fresh affection. Ross's vocal soars and sways in this loud and experimental piece, which is complemented by the frenetic accompaniment. The melodies and countermelodies are simple, yet catchy and addictive, making it easy to immerse oneself in the music.
Ross's voice shines in "A Single Source of Truth," as she seeks straightforwardness and sincerity in a society riddled with dramatization and disinformation. This contemplative ballad demonstrates Ross' ability to maneuver complicated issues with elegance and depth of feelings, as she cautions listeners to seek a firm foundation built on honesty and sincerity in a society that is frequently plagued with shallowness. This track's production is terrific, with a pleasant atmosphere that makes you want to break away from what you normally do. Musically, it sparkles, aided by the attractive prominence of the drums.
Ross explores the issue of nostalgia and the wish to recreate the innocence and simplicity of youth while reflecting on the passage of time and the inevitability of aging. So, as the song's ponderous title suggests, "Push Me Around In a Pushchair" has an essential message to share as Ross portrays the bittersweet feelings connected with the loss of adolescent wonder, presenting a lighthearted perspective on life's responsibilities and hurdles.
Ross muses on the introspective nature of a busy mind balancing various duties in our fast-paced, busy world in
"Looking at My To-Do List" as she examines the overwhelming nature of modern-day obligations. The song delves into the difficulties of juggling duties and the need of making time for oneself in the middle of chaos. Fiona Ross' vocals on this song are so passionate that it's hard not to get caught up in the moment; she handled the tune flawlessly, and the captivating piano chords are incredible.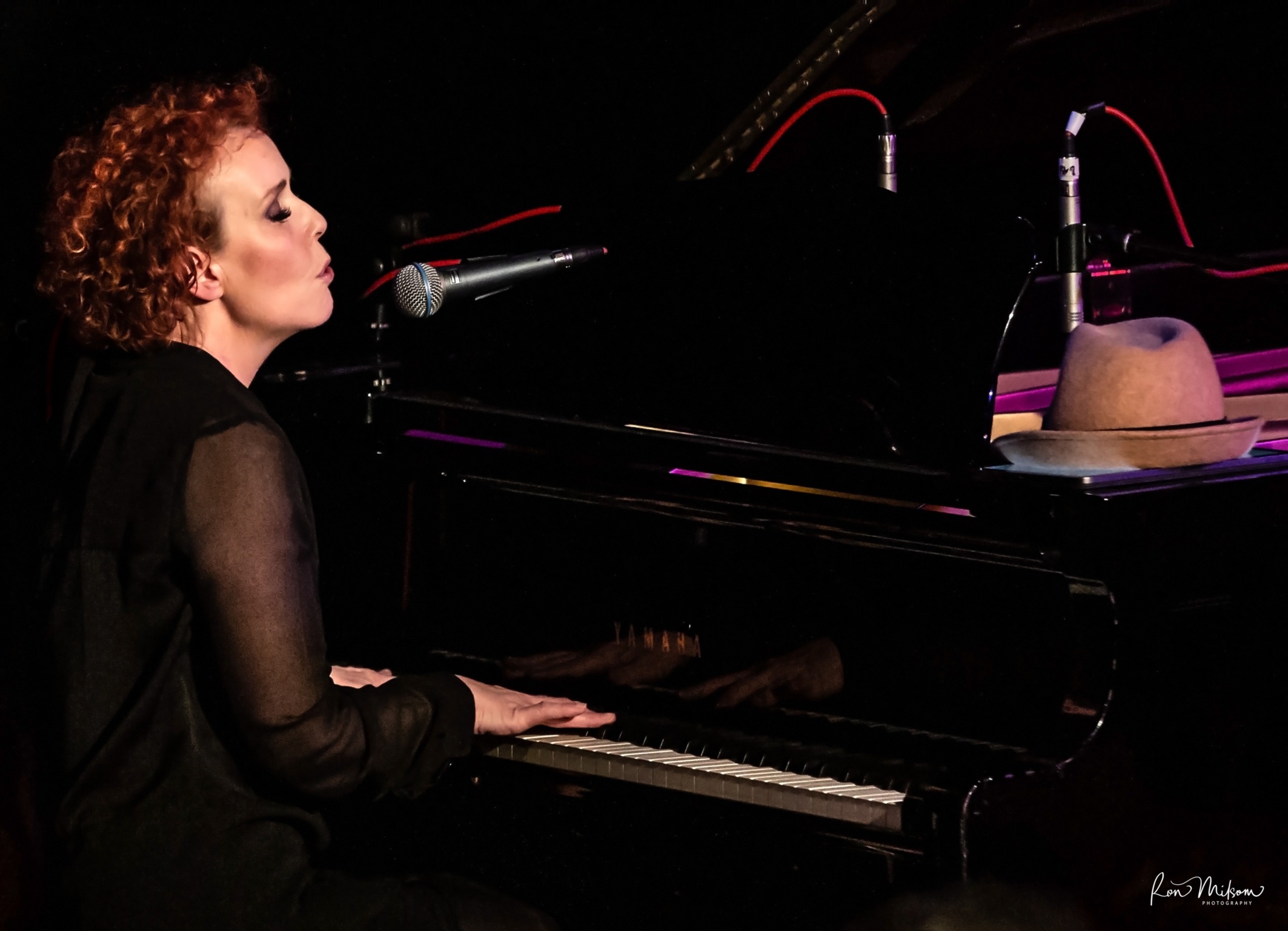 "The Best Version of Me" encourages listeners to accept their genuine selves through self-reflection and personal improvement. Ross delivers an inspirational hymn that inspires listeners to reach their full potential. The premise of the song is self-improvement and the quest to be the greatest version of oneself. This song is a delightful surprise since the fascinating and unexpected creation, combined with Fiona's lovely voice, will keep you puzzled till the very end.
"Trumpet Man" adds a sensuous touch by paying homage to a Renaissance man with beautiful trumpet flourishes that perfectly endorse the song's charm. Ross demonstrates her excellent vocal skills while esteeming the power of music to empower and unify people with the contagious delight of live performances. This music moves along at a pleasant, mid-tempo rhythm, generating a warm groove that pulls you in.
"Look What You've Become" gazes at the evolution of a relationship. Ross glances into the premise of change and how people may affect one another in a beneficial as well as detrimental manner. The song is a mindfulness on personal development and the influence of people in our life. Ross's vocals ignite through with remarkable charm and emotion in the pleasant and inviting ambiance of this song, and the acoustic guitar takes center stage.
"Always There For Me" is a sincere respect to loved ones that express appreciation for constant support. Ross pays passionate gratitude to those who stick by us through thick and thin. This song's premise is unconditional love and the ease that comes from knowing that someone will always be there for you. Fiona Ross' vocals are perfect, showcasing her exceptional skill and control.
In a society that is frequently plagued with negativity, Ross highlights the necessity of embracing positivity and finding delight in life's simple pleasures in "Positive Things." She invites listeners to find peace and delight in life's tiny blessings and to focus on the good parts of our existence in this song. The compelling vocal changes and orchestration, which leave an effect on you, demonstrate the passion and talent woven throughout this song. The piano chords have a pensive tone to them. It's magnificent.
"The Don't Stop, Just Breathe Ragtime" infuses the album with a feeling of exuberant and lively energy, providing an entertaining atmosphere. In contrast to the reflective tone of the album, Ross presents a cheerful, ragtime-infused single that seeks listeners to let free and appreciate the joy of the present moment.  The sound design of this song is quite remarkable. The production's precise delicate craftsmanship significantly boosts its engagement.
Finally, the album concludes with the instrumental "#thursdaythoughts," which features sparkling piano, danceable percussion, and groovy guitar. It portrays a speeding mind full of limitless thoughts and infinite energy.
Overall, Fiona Ross' "Thoughts, Conversations, and To-Do Lists" is an expertly designed album that explores numerous aspects of everyday existence. Ross captivates listeners with her seductive voice and informative lyrics, with each tune giving a new viewpoint and topic. This album takes listeners on a fascinating trip through the ups and downs of the human experience, from reflection and desire to thankfulness and personal progress. Fiona Ross' brilliance radiates through the album, making it a must-listen for jazz fans and anybody looking for a highly engaging musical experience.
Listen to the "Thoughts, Conversations, and To Do Lists" album by Fiona Ross on Spotify or SoundCloud, and let us know your thoughts.
You can follow Fiona Ross here for more information.