Hello there! Welcome to an exciting journey into the artistic domain of Shaven Primates, a boundary-pushing 5-piece band from Oxford, UK. The band goes deep into the tumultuous human experience with their latest 5-track album, "Birds Aren't Real," which was dropped on July 28th, constructing an insightful narrative that mirrors the weave of lunacy affecting the world today. Drawing inspiration from a diverse range of musical influences, Shaven Primates expertly weaves together dark-wave, art-rock, proto-punk, and post-punk elements, culminating in a cathartic outpouring of emotions through rumbling basslines, wailing guitars, thunderous drums, and passionate vocals. Following in the footsteps of musical legends such as Velvet Underground, Kate Bush, Tool, Prodigy, Yes, Clash, Bowie, Porcupine Tree, and Pink Floyd, Shaven Primates construct a road to make music they genuinely adore. Let us now discuss the album and its contents.
The album begins with "Fade Away," a hauntingly atmospheric composition that sets the tone for the dark and contemplative trip ahead while also confronting the alarming spread of fascism on social media. The listener is immersed in a musical world that fluctuates between retro and modern synthesizers, with a touch of punk and post-punk components from the 1970s and early 1980s conveying a sense of unease. The song confronts the listener with the apprehensive facts of a world damaged by deception and concealed truths as the crooning, but soul-piercing vocals unroll the tale of denial and conspiracy. The lyrics brilliantly depict the internet age's stresses, capturing the audience's attention and calling on them to confront the harsh truths hiding online.
Seamlessly transitioning, the second track, "A Decision," is a melancholy journey through bereavement and its deep influence on those left behind. It is a stunning tribute to someone close who took their own life. While it expands the album's scrutiny of the alt-thought topic, the grinding bass and wailing guitars compliment the thundering drums, providing a throbbing beat that depicts the urgency of making critical decisions in the middle of turmoil. The lyrics eloquently emphasize the weight of decisions and their effects, mirroring the anguish of decision-making in a society rife with deception, falsehoods, hatred, and conspiracy.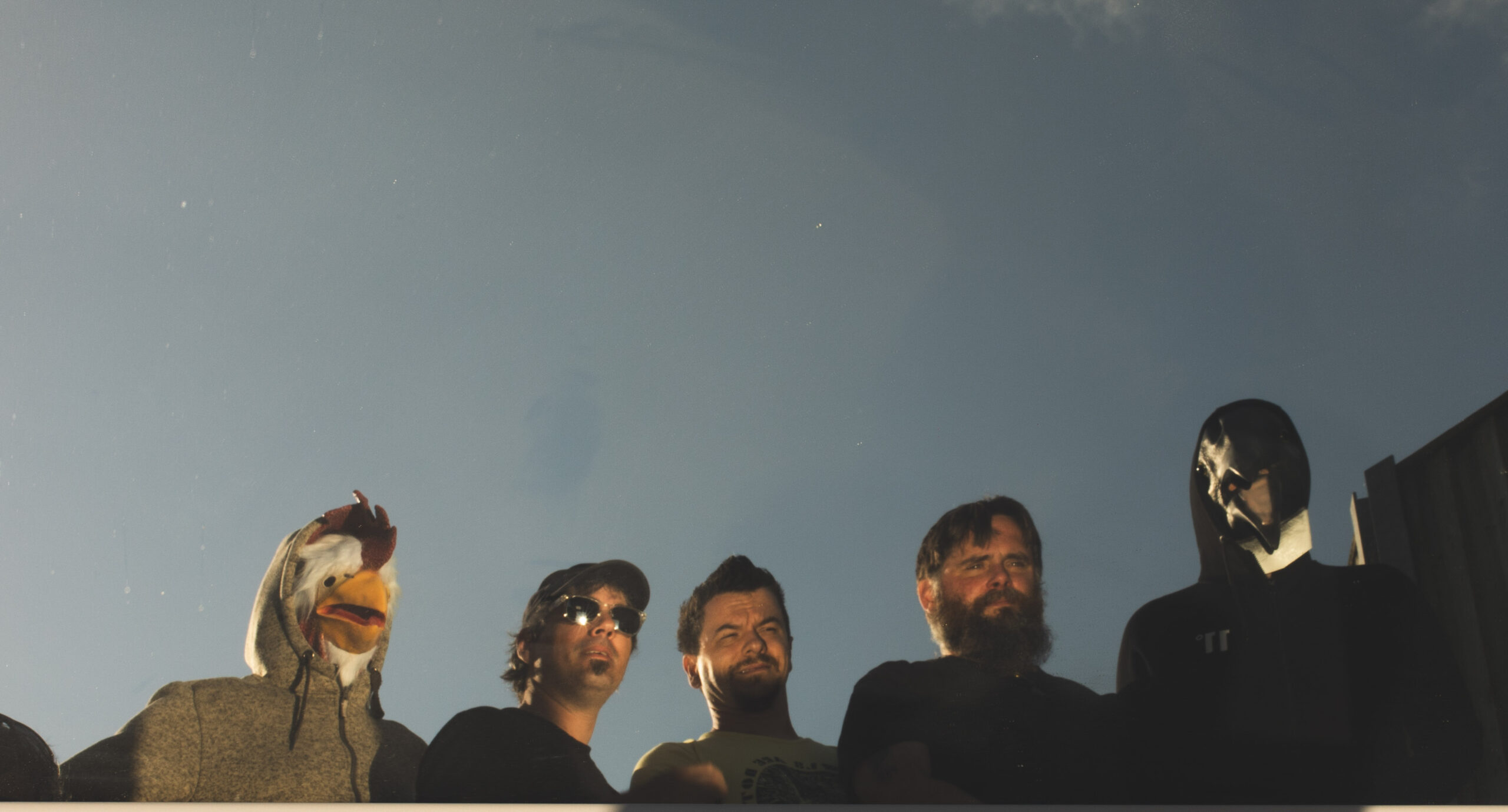 In "Silicon Implants," the band goes into the everyday web of current events, misinformation, and warped realities. Using historical information, Shaven Primates creates a strong story that confronts society's indifference. The track's rapid beat-down blues and Homesick Blues-style vocals emphasize the uncomfortable nature of how words and beliefs are weaponized, making it an unabashedly daring and thought-provoking composition that investigates how technology is affecting our minds and relationships.
Shaven Primates tells two stories in the fourth track, "Unmasked." One from the perspective of an undiagnosed autistic child suffering through school in the past, and the other from the perspective of a diagnosed autistic youngster seeking support and acceptance. The gentle lines are reminiscent of a classroom atmosphere, while the uplifting and continuous chorus praises the victory of self-discovery and acceptance. This song becomes a sincere dedication to individuals who accept their distinctiveness and find the courage to be honest, as well as a praise to those who find their way in discovering that they aren't broken and that they can now be confident in being themselves.
The titular track, "Birds Aren't Real," closes the album with an unfamiliar twist, pondering the possibility that birds are hilariously government surveillance equipment. This song's Spanish flavor gives it an unexpected appeal, while the punk throwback in the chorus adds an infectious energy. Shaven Primates demonstrate their ability to blend serious issues with a sense of humor and originality in this delightful yet thought-provoking song. As a result, this song investigates the perspective of a switch that a person may adopt.
Bringing my thoughts to an end, I must add that Shaven Primates' ability to integrate numerous musical styles into a cohesive whole greatly struck me as a reviewer. The album has aspects of dark wave, art rock, proto-punk, and post-punk, but it never sounds like a mishmash of styles. Their sound is original and readily recognized, and I believe they have a promising future. I also admired their willingness to address tough and contentious issues in their lyrics. The album addresses subjects such as fascism, suicide, autism, and conspiracy theories, yet the band didn't shy away from them. However, they tackled them with honesty and empathy, and I believe they have done an excellent job of analyzing the complicated feelings that these subjects might elicit. Overall, "Birds Aren't Real" is an excellent album. It's thought-provoking, challenging, and emotionally resonant. Fans of dark wave, art rock, and post-punk should check it out.
Listen to the "Birds Aren't Real" album by Shaven Primates on Spotify or SoundCloud and let us know your thoughts.
You can follow Shaven Primates here for more information.