Charlie Diamond is an independent artist from Hartford, whose vocals and distinctive amalgamation of folk and Americana-infused tunes produce an exclusive sound with an atmosphere of joy and fulfillment, as he puts a great lot of thought and effort into everything he writes. Charlie Diamond, well-known for his original tunes that combine his powerful vocals with poignant narrative, offers a wonderfully compelling performance on his album, "A New Poet In Town." Released on the 27th of January, "A New Poet In Town," is a compelling 9-track album that takes listeners on a riveting trip through the realms of heartbreak, dreams, and the appeal of the unknown. Each song on the album brilliantly portrays the essence of the human experience. With thoughtful lyrics and outstanding tunes, this album will undoubtedly have you in your thoughts. Let us get started.
The album starts with "Cambridge Fact Checker," a lovely piece that opens with Charlie talking over his guitar while introducing himself to the audience, establishing the tone for the remainder of the record. With a total playtime of 5 minutes and 29 seconds, this tune serves as an excellent introduction to Charlie Diamond's creative vision, since the concept of self-discovery and introspection is prevalent in this piece, encouraging listeners to seek meaning and truth amid life's chaos. His voice soars with emotional depth, driven by his captivating storytelling, thanks to the exquisite melodies and Diamond's insightful words. Also, with the inclusion of an acoustic guitar and some keys, this tune becomes a lot more lively, lavishly complementing the primary melody.
The second song, "Back To Meadow Street," is more nostalgic, conjuring up vivid images of beloved recollections and a yearning for simpler times. Charlie conveys a nostalgic desire for the past while simultaneously embracing the present with his passionate voice, and his ability to construct an aural landscape with his words and instruments is genuinely amazing, allowing us to be immersed in his musical universe. His smooth passages are a joy to listen to from the beginning of the track and are subsequently supported by rich melodies, allowing us to hear unique sounds as the music develops. The music and orchestration are nostalgic, pulling at the emotions of anybody who has ever wished for a simpler past.
Diamond's voice glides softly over a hypnotic tune in the third song, "Electric Lady Dreams." This song captures the essence of love and desire, with lyrics that depict the sensation of being captivated by someone's alluring presence. The vision presented in this song is elegant as if the Pied Piper of Dreams himself is transporting the listener to a dreamy condition. This is one of those songs that would be ideal for a music theatrical presentation. It's a tale in and of itself, and Diamond's composition and vocal abilities display through in this piece. The rich layers of his easing words over the beautiful accompaniment form the groundwork for this cheerful and lively delight.
"My Life Leads," the fourth song, is more contemplative, emphasizing the interior journey of self-discovery. Diamond's reflection is evident as he reflects on the pathways he has traveled in life and the lessons he has learned along the way. His passionate voice and the song's soothing acoustic guitar make it a heartbreaking and reflective moment on the album. On the other hand, Diamond's vocal delivery is breathtakingly beautiful, flawlessly merging with the captivating melody, infusing the song with an enticing charm that is difficult to overlook.
"The Star-Studded Girl and The Sunset Kid," the fifth song, portrays the story of two souls on opposing paths, striving for their place in the universe. Diamond's narrative storytelling is engrossing, bringing the audience into the lives of these two characters. The orchestration of the song, which includes vast chords and haunting guitar, gives a sense of cinematic grandeur to the narrative. It's a masterpiece that's both exhilarating and peaceful at the same time, generating a distinct yet completely unified sound that's pure enchantment, making it a fantastic complement to the album. It has a distinctive and intriguing atmosphere that will leave you satisfied.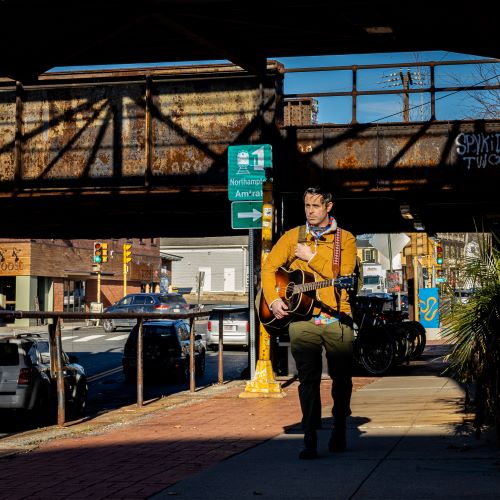 "Mid-Century Debutante," the sixth song, delves into topics of identity and self-expression. Diamond's lyrics explore the intricacies of societal standards as well as the yearning to break away from them. The dynamic beat and inspiring message of the song make it an anthem for embracing one's individuality and following one's path. And with its fascinating blend of varied sounds and melodic brilliance, this tune will keep you spellbound throughout. Diamond's deep vocals bring depth and emotion to this piece while also imparting a beautiful and mature tone.
Charlie narrates a compelling narrative of redemption and forgiveness in the seventh song, "Herman Drasser, An Innocent Man." This song addresses empathy and understanding themes, inviting listeners to go past surface judgments and embrace compassion. Charlie Diamond expresses the spirit of human perseverance and the power of forgiveness with touching words and a captivating tune. The brilliance of this song comes in Diamond's vocal alterations and how it evolves, with the musical landscape increasing with every minute that goes by. The arrangements are fantastic, and his performance was made even better by the acoustic accompaniment.
"Asmae. Rebel. Dreamer," the last but one song, is a stunning song about perseverance and dedication. Diamond's passionate voice and infectious tunes urge listeners to follow their aspirations in the face of adversity. This song is a rallying call for people who resist traditions and forge their paths. Diamond's vocals are flawless, and the music is breathtaking, as he employs brilliantly written lyrics that are simple to relate to and effectively convey the feelings of the song. The inclusion of the various sounds complements the acoustic guitar rhythm parts excellently.
Finally, "A New Poet In Town" ends with "Guitar Girl," a moving ode to music's transformational power. This song is a lovely dedication to the muse, who inspires and leads artists on their creative travels. Charlie Diamond's poignant words and soulful vocals bring this ode to the power of music to life. His enthusiasm shines through on every note, and his words are honest and authentic, making this song unique and ear-pleasing. This song is incredibly wonderful, and Diamond's singing style is quite outstanding.
Overall, "A New Poet in Town" is a gem that transports listeners on an enchanted trip through the realms of love, dreams, and self-discovery. Charlie Diamond's beautiful vocals, evocative narrative, and profound songwriting distinguish this album in the singer-songwriter genre. This album is an acknowledgment of Charlie Diamond's skill and establishes him as a real pied piper of dreams, with its enticing melodies and contemplative topics. Look no further if you're seeking for a meaningful but relevant album to add to your playlist.
Listen to the "A New Poet In Town" Album by Charlie Diamond on Spotify and let us know your thoughts.
You can follow Charlie Diamond here for more information.