Silvermannen is the solo project of Emerald Park's vocalist and composer Tobias Borelius, who hails from Malmö, Sweden. He's a great blend of artistic output, and his melodies are designed to make you fall in love with his music. Silvermannen's solo project published a 4-track EP named "Om Du Vill" on September 23rd, which has gorgeous vocals and fantastic soundscapes. Every track on the EP is flawless and constantly fantastic, with outstanding rhythm and groove arrangements. As a result, we approached Silvermannen from afar to learn more about this project and about him. Stay tuned and enjoy!
SONGWEB: Tell us about yourself and how your work as an artist is influenced by it.
SILVERMANNEN: I have no self-control so if I get an idea in the music part of my life I tend to make it happen. My wife and family don't always like it. At times I have had three different music projects running and it takes a lot of time, but I love it. It gives me energy and makes me calm – some sort of balance in life.
SONGWEB: Who are your most important artistic influences?
SILVERMANNEN: It's difficult to pinpoint a certain artist or band. I think all the music I've listened to since I was a kid is saved somewhere inside. When I write music, bits and pieces of it will appear in those songs. In reviews and articles, people have said Cure, National, Depeche Mode, Teenage Fanclub, and Arcade Fire. I'm not sure.
SONGWEB: Where do you get your inspiration and what trends influence your work?
SILVERMANNEN: I get inspired by going to concerts. I have recently seen Swedish indie band Popsicle, Editors, And You Will Know Us By The Trail Of Dead, and The Cure. I write songs when I'm bored and I process them while going to work on my bike.
SONGWEB: Could you tell us about your current project and its production process?
SILVERMANNEN: I have four projects running at this time. An EP with Silvermannen was just released in Swedish. Those four songs were remixes from two older records. I have a new album with Emerald Park coming up. That project was born and recorded in the studio by me and the producer Hate The Boyfriend. The first single is released on November 4th. I also have my "rehearsal band", called And The Broken where all songs are created together while rehearsing. We have a show coming up on November 19 and will release a new EP on November 17.
In June I also recorded a Christmas song with a newfound friend who calls himself Sylvester Wester. That one is also released in late November.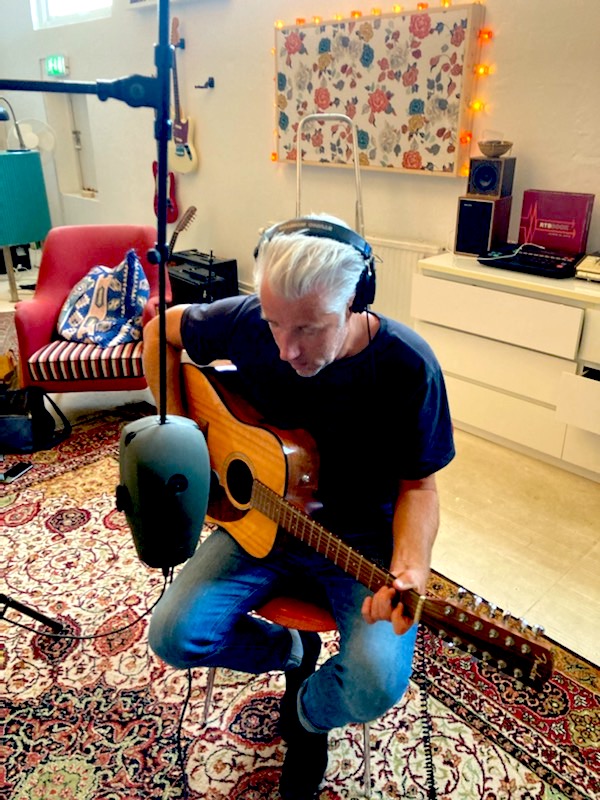 SONGWEB: Could you define briefly the objective or purpose of your work?
SILVERMANNEN: Music is my ventilator. I use it to write about my life and to briefly escape from it. I have never dreamt of being famous and all that. I do this because I like spending time with friends that I work with and hopefully, someone will like it. Over the years the Emerald Park success at Jamendo.com is the most unexpected and cool. As of today, Emerald Park has 10.9 million listens and 1.9 million downloads. That gives me a purpose to do more music.
SONGWEB: Do you have any artist relationships, and how do they help you?
SILVERMANNEN: Since I started working with Carl Granberg. I have met and gotten to know quite a few of the local musicians. I try to always do things with new people. It makes me grow.
SONGWEB: Describe how we can help you advance your career.
SILVERMANNEN: Nowadays, the most important thing is to get into playlists. I'm not a huge fan of this new era, but I have gotten used to it. As a consumer, though, I think it's a good idea. So, if you have any suggestions in this area it would be cool.
And The Broken is a great live band. The best one I've played in. But it's difficult to get shows. Do you guys know anyone who books gigs?
SONGWEB: What have your critics and collectors had to say about your work?
SILVERMANNEN: If a person likes to listen to a record or EP that is eclectic they've come to the right place. Some critics like the variations and some think that it's proof of insecurity. Having said this I have critics and fans.
SONGWEB: How do you hone your abilities?
SILVERMANNEN: By working with new people all the time. That way you not only stay in one genre you also need to learn how to communicate with different people. And some people put pressure on you and some don't. Either way, you have to improve your skills and try to be better.
"Silvermannen moves slowly and silently through a narrow but beautiful soundscape where present and past do not exist. He listens, looks, and thinks about the surroundings, but does not bring anyone to justice. No superpowers, no rock, no arch enemy, just a big heart."
Overall, the ensemble crafted an EP with appealing songs and flawless production. The tracks are catchy, and it's wonderful how each song on the project blends in with the ambiance. Silvermannen is one-of-a-kind in so many ways, and his identity will continue to play a key role in his artistic aspirations in the foreseeable. Listening to "Om Du Vill" is strongly recommended.
Listen to the "Om Du Vill" Ep by Silvermannen on Spotify or SoundCloud and let us know your thoughts. Cheers!
You can follow Silvermannen here for more information.