In the realm of music, some artists create, while others transcend. Teddy Bryant, from Conway, South Carolina, unquestionably belongs in the latter category. His latest musical endeavor, "Dinner For Two," a 12-track masterpiece, is a kaleidoscope of genres and emotions that captivates, moves, and inevitably leaves you craving more. Released on August 18th, "Dinner For Two," is more than simply an album; it's a musical odyssey that pays respect to the rich sounds of the 1980s while building a new narrative through heartfelt melodies, elegant arrangements, and incredible storytelling. As we plunge into each track, Teddy's silky soft vocals seamlessly traverse across the various musical landscapes he's thoughtfully opted for.
The album sets sail with the charming "Intro: Come Dine With Me," which features Yadira Gamble's sensuous voice. It is more than simply a song; it is an experience. Teddy transports us to a cozy French Riviera restaurant on a stormy night, where romance and adventure collide. The intro serves as the perfect appetizer for what lies ahead, competently setting the stage for the musical banquet that follows. With this song, Teddy demonstrated that he is a true musical and lyrical genius. It's a three-course dinner with added spiciness and I'm sure he enjoyed his "Dinner For Two". I admired the vocals, and the song's alluring melodies completely mesmerized me. This is a sound thrill!
"Bunches Of Love" (Feat-Ferdileem) comes next, with its mesmerizing blend of contemporary jazz and hip-hop soul. The saxophone beautifully played by Ferdileem gives this song a soulful touch, making this a soothing and elegant track. The message of love and connection is embodied in the song, making it a great starting point for this romantic musical journey. Teddy's vocals stand out, as they cut through the mix while conveying depths of emotion.
"Wrapped Around Your Finger" is Teddy's heartfelt tribute to J Dilla and a declaration of love. The song showcases his lyrical and composing abilities as he crafts a tale of being utterly captivated by his companion, while his heartfelt lyrics lend depth to this soulful respect. This song has an amazing ambiance with a lovely and calming melody that adds to its beauty. The gentleness in Teddy's vocals is one of the song's beauties. The song has excellent R&B vibes mixed with hip-hop and touches of soul and works magic in a wonderful way that solely grabs your soul.
"8, 9, 10," the album's first house track, is pure soulful bliss. Its upbeat attitude and irresistible melody will have you dancing without a care in the world. Teddy's voice emanates positivity and warmth, making this track an instant favorite. If performed live, this is the type of song that will undoubtedly make the audience bounce. The drums are dynamic and perfectly complement the unique flows. It is completely engulfing and moves ahead of the other songs on the album. It's lively throughout and doesn't have a single beat that sounds out of place.
"Comfort Me" (feat Kelly O'Donohue) is a neo-soul/contemporary jazz fusion. Kelly O'Donohue's trumpet adds an exquisite layer to this composition, producing a musical landscape that is both serene and exhilarating, reminiscent of luminaries such as El Debarge and Herb Albert. The percussion accompaniment is excellent. Teddy's vocals are airy and lush, keeping the song interesting and new. I was initially drawn in by the music's distinct and enigmatic vibe at the climax of the song. It had an aura of mystery about it that piqued my interest and made it an experience I won't soon forget.
"Give Me That Love," a tribute to the renowned Marvin Gaye and Motown sound, takes you on a nostalgic trip through soul music's golden period. Tom Rhodes' flute performance is terrific, perfectly complimenting Teddy's soulful vocals with finesse. His performance is simply astounding, and he does an excellent job of keeping the music alive. The vocals and instrumentation work together to create an earnest and interesting tone, making "Turn It Around" an exceptional piece.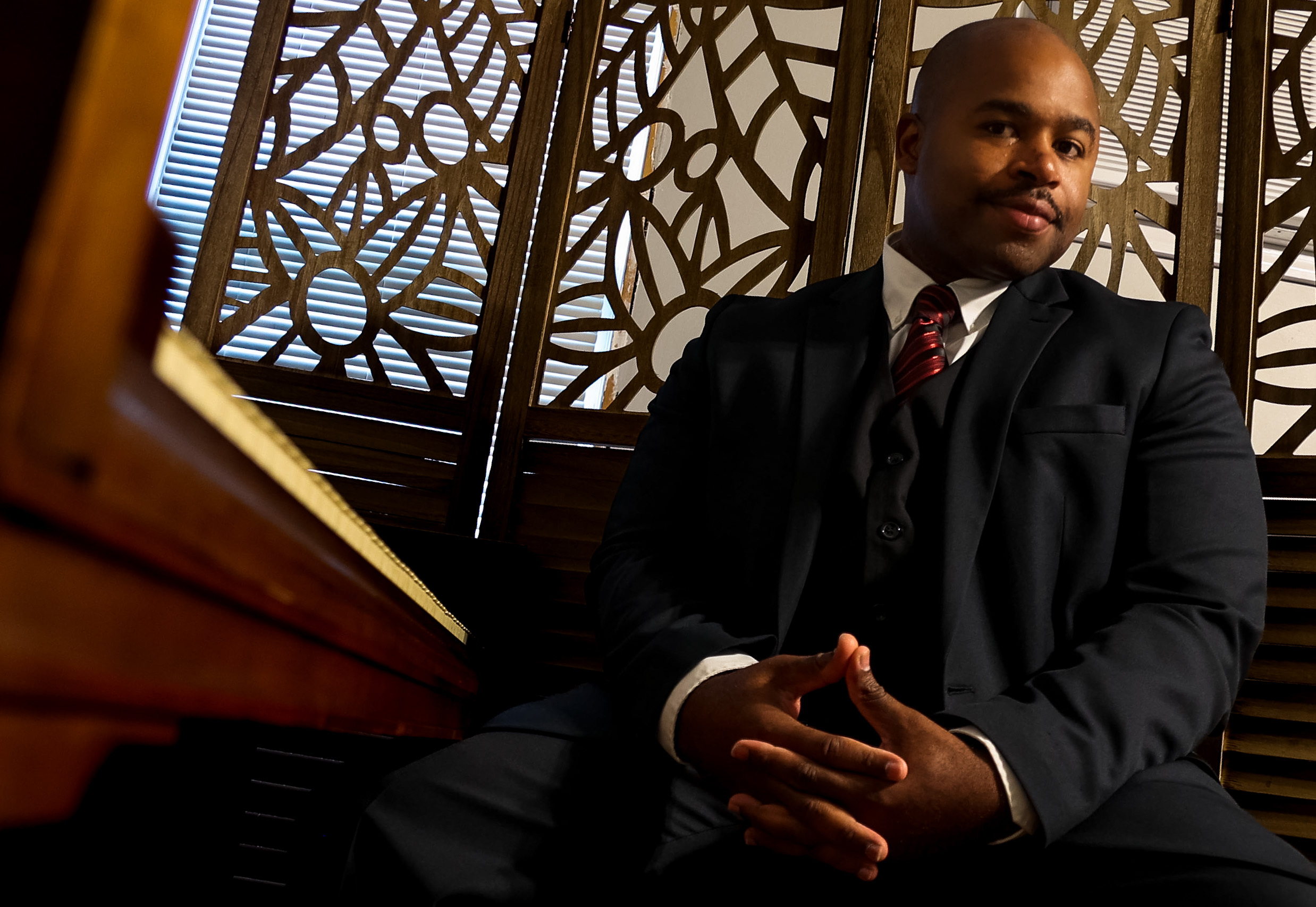 "2 Step" brings you back to the irresistible beats of house music from the '80s and '90s. Teddy's ability to infuse nostalgic feelings with modern sensibilities is admirable, and this single is an irresistible invitation to hit the dance floor, keeping you energized and emphasizing Teddy's respect for classic music and its impact on his life. This track has all the ingredients of a hit single, with a lavishing dosage of delightfulness. So get immersed in this musical splendor by Teddy Bryant's captivating vocals.
"Love I'm Given" (feat. Stimulator Jones) is a heartfelt hip-hop soul track. Stimulator Jones' addition elevates this song into a deep, nostalgic journey through love and relationships, while his verse adds a layer of depth and uniqueness to the song. This is without a doubt one of the album's beautiful songs, and the melody will caress any ear. The singers' calm pace and the passion with which they perform will leave an unforgettable first impression on the listeners. It's a well-crafted song and will have a particularly potent impact because of the vital lyrics and sentiments presented with immense love and depth.
"Fairy Tales" depicts love and marriage in a gentle and emotional light, recounting the glorious beginnings of Teddy's love story. It goes into the purity of love and marriage, telling the story of how Teddy met his wife. It's a grasping, very emotional piece that highlights the album's thematic depth. I loved the rich melodies and harmonies in the entrance, they provided a lot of curiosity to the introduction. The production is simple, yet it lends a lot of sparkle to the song. Teddy's vocal delivery is the most significant factor in hooking listeners into the song, and once you get into the groove, the song transforms into a treasure that you'll want to keep permanently.
The title track, "Dinner For Two" features virtuoso guitarist Morris Mobley. It captures the essence of the entire album, conveying Teddy's excitement for a romantic date night with his wife. The song is a beautiful combination of emotion and musical skill. It displays an exceptional perspective utilizing soothing rhythms and enticing melodies, with floating melodies, captivating guitar accentuation, and a lovely percussion cadence. Teddy Bryant uses an approachable voice and unique lyrics to make his message more relevant. The guitar work at the bridge is a nice complement to the song's musical experience. The vocal delivery also contributed to the song's pleasure by keeping the passion strong throughout.
"Get Back" is a tribute to the legendary Sade. Stella Zekri's vocals, Stephan Kammerer's saxophone, and Eric Assarsson's contributions elevate the song into a riveting tribute to one of Teddy's favorite female artists. This song has an idyllic and serene vibe to it, and I think it is ideal for listening when you need to clear your mind and relax. I love how the track flows smoothly with gentle music, making it ideal for an unwinding night at home or a long romantic trip. The music and vocals are peaceful, melodious, and pleasant, allowing you to calm down and appreciate those who play a role in your life.
The album comes to a close with the beautiful "Outro," which finds Andrea and Teddy basking in the warmth of a romantic evening. We see the end of a night filled with love and song as Marvin Gaye-like music serenades us. The voices in the song are captivating. Teddy Bryant has done an excellent job with the execution, and his singing is flawless. He adds an entirely fresh aspect to the song with his unique and beautiful vocal delivery. The beats and melodies simplify the mood of the track and make it more appealing to listen to. With this album, Teddy Bryant uses music to express himself creatively and he accomplishes flawlessly. He deserves an award for being the best storyteller!
After immersing myself in "Dinner For Two," it is evident Teddy Bryant is a musical genius, transcending boundaries and seamlessly combining genres. His soft, passionate voice echoes exceptionally in each track, leading us on a delightful journey of love and musical exploration. Teddy's meticulous care for detail and aesthetic vision are apparent in the instruments and production.
Overall, "Dinner For Two" is an invitation to revel in love, joy, and the enchantment of musical variety. Teddy Bryant's creativity shines brightly, leaving a cherished impact on the psyche of the listener. So, prepare to be charmed, moved, and enormously entertained, for this album is a timeless classic that will certainly resound with a differing audience, leaving a lasting impression on ears lucky enough to listen to it.
Listen to the "Dinner For Two" album by Teddy Bryant on Spotify and let us know your thoughts.
You can follow Teddy Bryant here for more information.