In the middle of the world's stormy storms and uncertainties in the year 2020, Phoenix-based one-man band, Dogface and the Pony Soldiers surfaced with a soul-stirring musical journey in the form of their album, "No Better Time," which he put out on March 7th of this year. This 9-track album, anchored by Arizona native Sean McCauley's creative intellect, takes listeners on an emotional rollercoaster, traversing the intricacies of a pandemic-affected globe and exploring the depths of human struggle and fulfillment. Let's look more closely at how he did it.
"400,000" opens the album with significance, with a simple yet effective and catchy guitar riff that instantly catches the listener's attention, and offers a solid melodic and rhythmic basis for the compelling and expressive vocals to soar above. From the opening note, Sean McCauley's wealthy vocals set the tone for the rest of the song, which serves as a poignant tribute to the tremendous loss of life during the COVID disaster. This song is a somber reminder of the pandemic's human toll, reflecting on the gap left by those who died and encouraging listeners to find reassurance in shared pain.
"No Better Time" captures the core of the album, expertly mixing elements from the Beatles, Wilco, and Father John Misty. McCauley's composition, with heartfelt melodies and poignant lyrics, reflects the tremendous impact of personal health struggles. The lyrics are simple yet profound, and they wonderfully complement the lighthearted attitude of the song. It expresses the concept that even amid turmoil and misfortune, one may discover courage and optimism. The poignancy in the words gives the song the necessary weight and makes it feel more effective and worthy, and I enjoyed how Sean's performance gave a certain kind of charm to the song's grandeur in a pleasant manner and made it more enjoyable.
"My Forever Home" is a dedicated anthem to finding one's place in a constantly changing world. McCauley's voice mimics the wanderings of the heart, seeking refuge within the storm. It's a song that finds comfort in a sense of belonging, urging us to treasure the places that offer us serenity. This song has a lively feel that is enhanced by amusing rhythms, appealing riffs and melodies, and vocals that bring a lot of character to the entire piece. The production work is concise and accurate, perfectly matching the vocals.
In "Beauty Queen," Sean digs into the fears that have captivated us all during this turbulent time. The music is inspired by Wilco, engulfing us in an atmosphere of meditation. The lyrics reflect on current society's constraints, challenging us to confront the norms set by an image-obsessed culture. I appreciated how the song evolved, gently and in its own time, with so many riches to be found along the way. And how it made me feel, it left me stunned, as if I had just witnessed something magical. This is a song I'd listen to on any given day, just to appreciate the calm and to hear Sean's passionate voice, much like I love life's tiny gems.
"Simpler Times" transports us to a bygone period, eliciting nostalgia for a world that no longer exists. This song is instantly captivating, with dreamy melodies, cheerful guitar chords, and poignant lyrics that strike a chord in our emotions, reminding us of treasured memories and a desire for simpler times. Then there were Sean's vocals, which were saccharine, nostalgic, and intriguing, with a versatile and compelling tone that people of all ages would admire.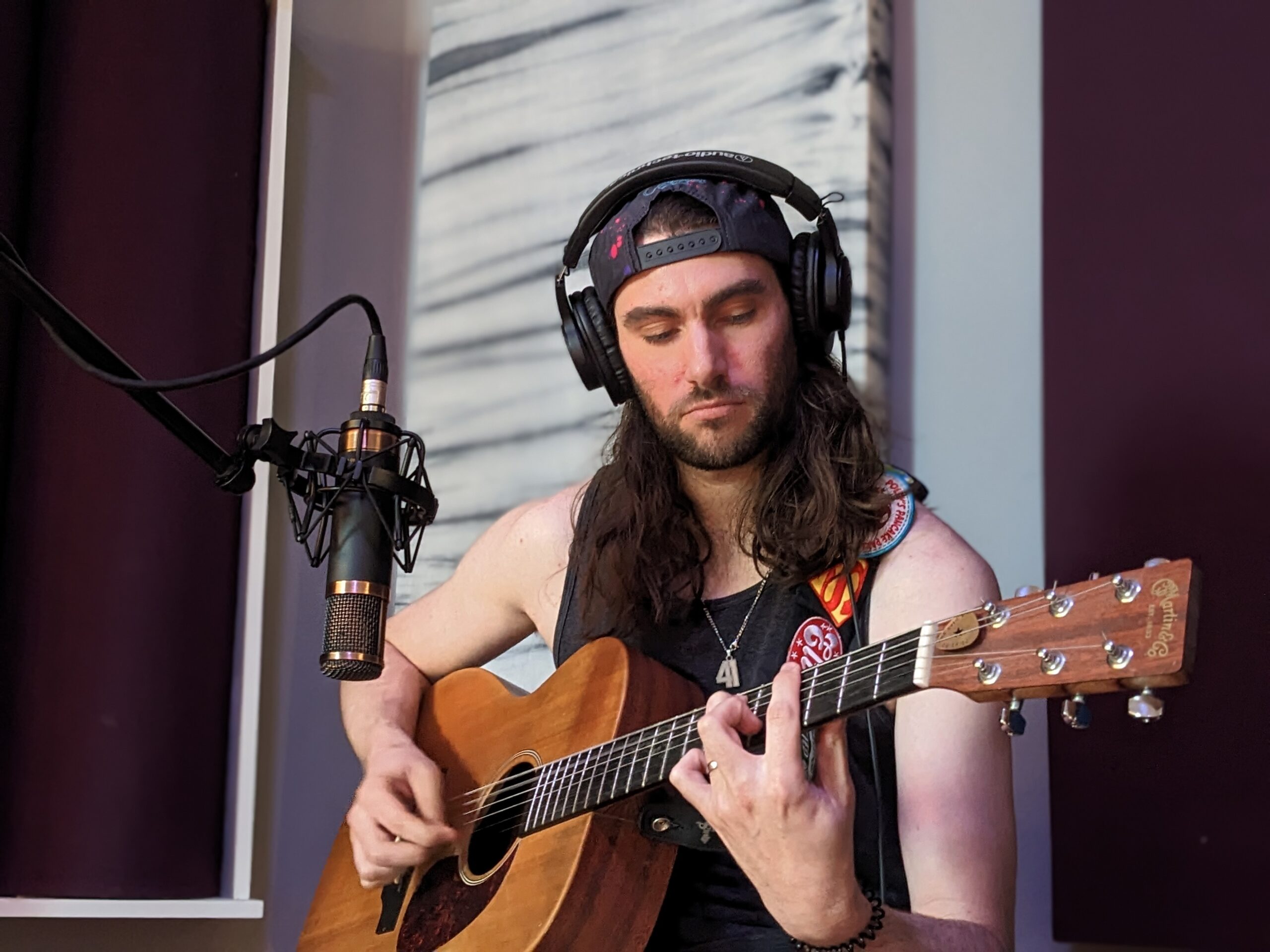 The anthemic "Team Near The Bay" stands out as an expression of human connection. In the face of societal alienation and isolation, this track emerges as a rallying call for togetherness and solidarity. McCauley's emotive vocals, along with captivating melodies, create a sense of community, emphasizing the power we find in supporting one another. This song is a great depiction of what it means to love and be loved by those in your life. The staggeringly emotive lyrics make you happy in the most unforeseen manners, but it is the music that truly works its magic on you. The soundscapes have a distinct flavor and are intended to lift your spirits with their attractive atmosphere.
Beginning with delicate acoustic guitar notes and progressing into an elaborate event, "Eyes Open" is a fascinating dive into self-discovery as McCauley peels back the layers of his emotions. The track's contemplative nature reflects the path of delving inside and discovering the answers we seek within ourselves. It is an insightful work that invites listeners to accept fragility as a means of progress. Sean's soft vocals give the song a whole other atmosphere, making it even more idyllic and pleasant to listen to while adding a unique edge. The wonderful melodies are blended creatively, creating a breathtaking soundscape worthy of anyone's appreciation.
"One Being" is the album's crowning treasure, encompassing themes of acceptance and harmony in the face of chaos. The track captures the desire for inner calm, helping us to achieve poise in the middle of a world in perpetual flux, with a hypnotic soundtrack. This song is simple but mighty, reflecting a profound desire for self-awareness and acceptance. It is delightful and wonderful, and I can hear the guitar throughout the song, and it's honestly there in all its splendor without stealing from Sean McCauley's voice, which is a treasure to listen to. It's ideal for a quiet, relaxing time of introspection and exemplifies what Sean is capable of as an artist, his songwriting is exceptional and his delivery is impeccable.
The closing track, "Take Back Your Lonely Heart," is a poignant anthem of healing and resilience. McCauley's vocals soar with hope and determination, carrying us through the journey's end with a renewed sense of strength. It is a beautiful reminder that, despite life's trials, there is always a chance to reclaim joy and mend our hearts.
In "No Better Time," Dogface and the Pony Soldiers have created an album that surpasses musical notes. It reflects humanity's collective journey through unforeseen circumstances, as mirrored in one man's hardships. The album conveys the core of our common human experience – the tenacity to survive, the fortitude to adapt, and the sense of hope that illuminates our way even in the darkest hours. With a delicate combination of musical proficiency and lyrical genius, Sean McCauley has given the world an album that connects emotionally with listeners from all walks of life, with a touch of enchantment and a talent for storytelling. So, if you're looking for a musical journey that will tug at your emotions, inspire your spirit, and fire your creativity, look no further than Dogface and the Pony Soldier's "No Better Time."
Listen to the "No Better Time" album by Dogface And The Pony Soldiers on Spotify or Bandcamp and let us know your thoughts.
You can follow Dogface And The Pony Soldiers here for more information.