Darrian Gerard, a Canadian singer/songwriter, and producer, is a Pop-Rock performer who began playing the guitar at the age of seven and then moved on to the drums, bass, and keyboard. She is an experienced musician who released her debut in 2021 and now has a few tracks in her portfolio. And now, she's back with her debut EP, "Basement Stadium," which includes five tunes on which she delivers exceptional performances that will leave fans speechless. Moreover, "Basement Stadium" was released on February 10th, 2023, inspired by life's ups and downs and the desire to travel somewhere new and become who you want to be and who you are meant to be. As a result, the tracks on the EP portray certain struggles, vulnerable moments, and positive attitudes toward growth.
The "Basement Stadium" EP, influenced by Avril Lavigne's "Under My Skin," Halsey's "If I Can't Have Love, I Want Power," and blink-182's Untitled album opens with the lead track, "Explosion," which wonderfully sets the tone for the rest of the EP. It makes a significant entry, with Gerard's strong and dynamic vocals delightfully pouring through the song's peculiarity with lyrics that are introspective and relatable, capturing the feeling of wanting to break free from the past and embrace a new, brighter future. "Explosion," is instantaneously feel-good music embellished with captivating rhythms and layers of unique combinations that add elegance and depth. The powerful guitars and hammering drumming, in particular, make the song more energetic and appealing.
Going on to the EP's second hit, "Powerless," is a hauntingly beautiful piece that reveals Darrian Gerard's vocal range and emotional depth while also displaying her ability to compose meaningful and meaningful lyrics. Gerard's vocals shine through the sparse accompaniment as she delivers strong lyrics about feeling imprisoned and hopeless. This music is extremely immersive, with every aspect being appropriately loud, providing an incredible listening experience.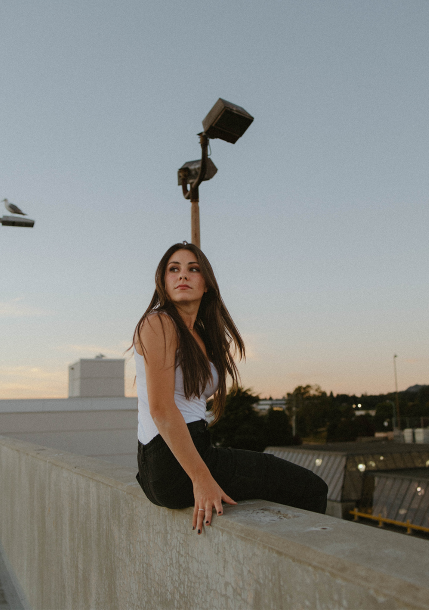 "Everybody's Mad At Me," the third single, is a remarkable track that blends appealing melodies with an easy pace that complements the emotional depth of the lyrics as  Gerard's steadily rising vocals brilliantly capture the sense of being caught in the middle of a conflict. With lovely orchestration, this song is captivating and likely to become stuck in your brain. While I listened, the middle section became my favorite since it changed pace and displayed Gerard's musical ability with her beautiful voice variation, which transmitted the song in a way that interacted with listeners on a personal level.
The fourth single, "Backseat Driver," is similarly an exciting and compelling tune. The lyrics are introspective and reflective, while the accompaniment is subtle yet effective. It is surprisingly nice in terms of acoustics and generates a gorgeous aura that makes you feel completely at ease. I adore how creative this tune is; it makes me want to dance and swing to the addictive and engaging rhythm rather than grumble about it.
"Old Wounds" is a compelling closer that wonderfully embodies the EP's themes of human growth and transformation. The lyrics are emotional and sympathetic, and the instrumentation builds to a thrilling end that makes an impression. The vocals are delivered with passion, and the transitions between vocal textures are seamless, resulting in a catchy chorus that captures your attention. Making it hard for us not to sing along as the song goes on and on.
When it comes to the EP's title, the "Basement" part originates from the fact that all of these songs were written, recorded, and produced in Darrian Gerard's basement. For the time being, the "Stadium" refers to her stage. This emphasizes her inventiveness brilliantly. Besides this, notwithstanding the fact that this is Darrian Gerard's debut EP, it is really pledging. It has well-crafted lyrics and distinct songs that express her personality. Her vocals not only sparkle but connect with the audience, making it incredibly amazing all together. And because of its themes, the EP is a profoundly relevant and meaningful listening experience for anybody going through a transitional time in their lives.
Listen to the "Basement Stadium" EP by Darrien Gerard on Spotify or SoundCloud and let us know your thoughts.
You can follow Darrian Gerard here for more information.