Earthtones Trio is a Glasgow-based band noted for their excellent and beautiful compositions presented with elegance, comprised of Katherine Bryan (flute), Euan Stevenson (piano), Betsy Taylor (cello), and Tom Gordon. Their compositions are amazing, with certain surprises that set them apart from other bands. On February 1st of this year, they released "Skirmish," a three minutes 40 seconds instrumental track set on and around Euan Stevenson's hometown of Falkirk, where he grew up and frequently returns. "Skirmish" is incredibly realistic and unique, and you could listen to it all day. It has a beautiful atmosphere, and the lovely piano melodic beat nicely sets the tone. I had a chat with the band pianist, Euan Stevenson from the other side of the globe to learn more about them and also dig into the story behind "Skirmish." Stay tuned and enjoy our conversation below.
Songweb: Can you tell us a little bit about the inspiration behind Skirmish?
Euan Stevenson: All of the music in 'Sound Tracks' – Earthtones Trio's debut album – on which new single 'Skirmish.' Features – is centered in and around my hometown of Falkirk where I grew up and often return. Euan says "Due to the town's geographical location in the central belt of Scotland, throughout history, it played host to more than its fair share of bloody conflicts – often small, loose, chaotic affairs best described as 'skirmishes'. It felt natural to write a piece of music that attempts to capture the fear, adrenaline, and madness of the onset of one such frenetic encounter.
Songweb: How do you approach the creative process when creating new works of art?
Euan Stevenson: I'm a classically trained jazz pianist and so the majority of my compositions begin with my improvising at the piano. I try to be mindful of that moment when a strong idea emerges that suggests a certain 'feeling'. Often it is just a small melodic fragment or rhythmic motif. I'll often develop that idea through improvisation and if I come back to it the following day and it still feels special then I may choose to develop it into a composition – ie I start to work on developing structure, counter melodies, harmonic ideas, instrumentation, etc.
Songweb: Can you share with us a particularly memorable moment during the making of this project?
Eaun Stevenson: I wrote much of this music during the pandemic and in particular during the first UK summer lockdown of 2020. This allowed me plenty of time to compose (and re-compose) the music at home without the distraction of live performance commitments and travel. I remember thinking how unique this situation was and constantly reminding myself to savor this time – particularly the increased amount of time I was able to spend with my children. They inspired me to dig deep into my childhood memories and also imbued the music with a sense of fun. A memorable moment was one day returning from running in the park with my young son and immediately having a pleasingly naive rhythmic and melodic idea directly inspired by his character – his ceaseless energy and spirit of adventure and fun!
Songweb: What message or emotion do you hope to convey through your art?
Euan Stevenson: It depends on the piece but generally, I want my music to immediately stop people in their tracks so they are compelled to give their full attention. I want them to be absorbed by the music and for it to move them and uplift them. Beauty (in music or any work of art) I think should have the effect of challenging us to be better versions of ourselves. I'd be thrilled if my music ever has that effect on people.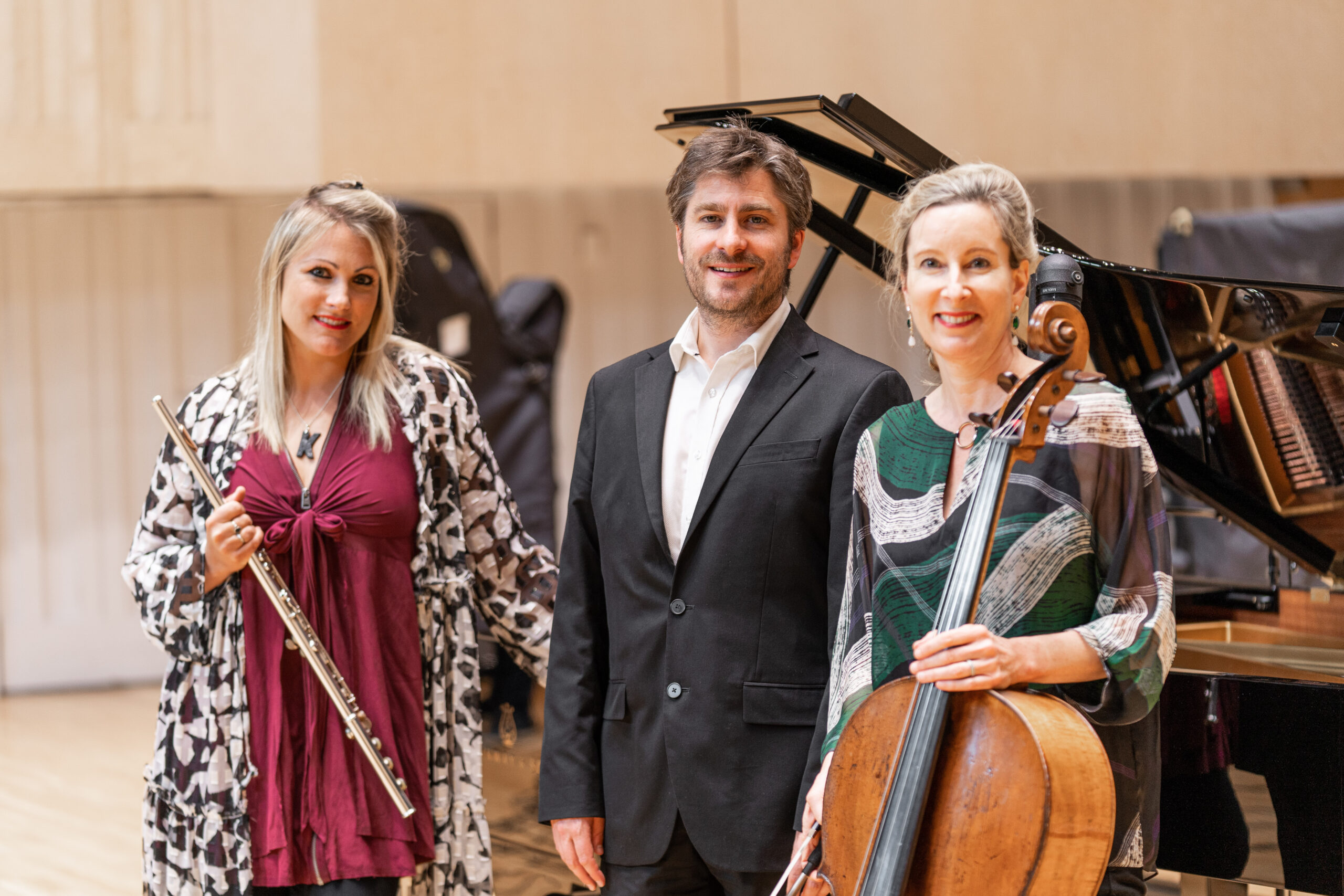 Songweb: Can you describe how you incorporate your personal experiences into your work?
Euan Stevenson: I don't force this and generally with instrumental music (which is abstract by nature), I don't set out to write a piece about a particular experience. I write the music and then at some point in the process, I will become aware of experiences that may have informed the sentiment of the work. I suppose you could say that one of the perks of writing music is that it is a cathartic experience.
Songweb: How does your latest project differ from previous works you've created?
Euan Stevenson: This was the first album of original compositions written for Earthones Trio and I loved bringing percussionist Tom Gordon to guest on some of the up-tempo tracks. The music I'd written for Earthtones Trio had hitherto been quite smooth and mellifluous and the material played on the radio is often my arrangements of existing well-known material. Sound Tracks allowed me the opportunity to explore a diverse range of styles including some up-tempo and rhythmically exciting material -on tracks such as Running For Miles, Victory Dance, and of course Skirmish.
Songweb: Lastly, what are your plans for your artistic journey and where do you hope to take your work in the future?
Euan Stevenson: I plan to keep creating opportunities to write newly commissioned music. I would also love to do more live performances with Earthtones Trio in addition to further recordings.
Overall, "Skirmish" is a delightful track with a playful beat. With its relaxing and reassuring piano melodies, it flows smoothly and has therapeutic foundations. It is extremely well written, and all of the instruments blend perfectly, showcasing the band's abilities and intelligence, which are quite impressive. The mix is interesting and adds a pleasing depth to the music.
Listen to "Skirmish" by Euan Stevenson and Earthtones Trio on Spotify and let us know your thoughts.
You can follow Earthtones Trio here for more information.