Tryingtogetby is a Chicago-based act established by musician Tyler Miller, who wrote and performed all of the songs on this new album. Tryingtogetby worked on this album and the previous ep during the pandemic, playing all the instruments. Stephen Pastor on drums and Steve Merkel on bass were featured on The 'Steve, Stephen, Tyler.' Merkel appears on bass on the new album as the sole feature for the song "Blind." Tryingtogetby describes himself as a "punk rock nomad" and "Curse of a Tongue" is his new album which he released on the 8th of August this year.
The album, "Curse of a Tongue," has a total running duration of 28 minutes 16 seconds, and eleven(11) songs, and we asked Tryingtogetby to tell us more about it. Relax and enjoy our conversation with the artist.
The album, "Curse of a Tongue," has a total running duration of 28 minutes 16 seconds, and eleven(11) songs, and we asked Tryingtogetby to tell us more about it. Relax and enjoy our conversation with the artist.
SONGWEB: Tell us about yourself and how your work as an artist is influenced by it.
TRYINGTOGETBY: I grew up in a small country town, moved to the city when I turned 18 and started a booking company because there wasn't any communication in the scene or for bands trying to play in the town. I did that for 5 years and sold everything I had so I could do what I wanted the whole time, which was to play and travel. I filled in for bands for tours that needed someone and played around 200 shows a year on the road till the pandemic hit. I was living in Chicago at the time touring with Voice of Addiction, whom I got to write and record the new album with that was released on August 5th on guitar. I've seen a lot of stuff in the country firsthand, gained a ton of perspective that I didn't have when I was younger, and always thirsted for more. I still do and I think it's important to never be satisfied and to stay in pursuit of an ever-changing dream. I take inspiration from everyone I meet.
SONGWEB: Who are your most important artistic influences?
TRYINGTOGETBY: Mainly small local bands but before I had the privilege of seeing them on the road I'd have to say Rancid and Operation Ivy were major influences when I was younger. As I got older I got into more 90s 2000s lyrical hip-hop artists like Wu-Tang, MF DOOM, A Tribe Called Quest, and Beastie Boys. My tastes go across the board though as I still consider myself a blues guitar player at heart. BB King and Stevie Ray Vaughn shine through a lot of my lead playing.
SONGWEB: Where do you get your inspiration and what trends influence your work?
TRYINGTOGETBY: Friends and traveling on a positive note. Assholes and bigots for the rest.
SONGWEB: Could you tell us about your current project and its production process?
TRYINGTOGETBY: I bounced the idea around a lot of how much production value I could get from my DIY setup but ended up trying something that ended up being a very fresh fun production style.
– I tracked my DI tracks, midi organ, and drum stems on reaper (free version yepp)
– Used VSTS for personal editing and playing
– Bounced the DIs with no effects added to wav files and sent them to my engineer Kyle Tile
– Kyle re-amped the guitars in the studio at Black in Bluhm in Denver, put my vocals through tasty processors, and made it sound exactly how I wanted everything.
– Roger Lima from Less Than Jake did the masters down in Florida and bounced it back to me.
– I use free programs to do all the recording.
SONGWEB: In what ways has this project aided you in other aspects of your life?
TRYINGTOGETBY: It started as a project for me busking between tours to get to wherever the next run started. I ended up hopping on some shows because if I drive in 4 hours in any direction I can usually find a punk or a dive willing to let me set up a bucket, stand on the bar, and scream.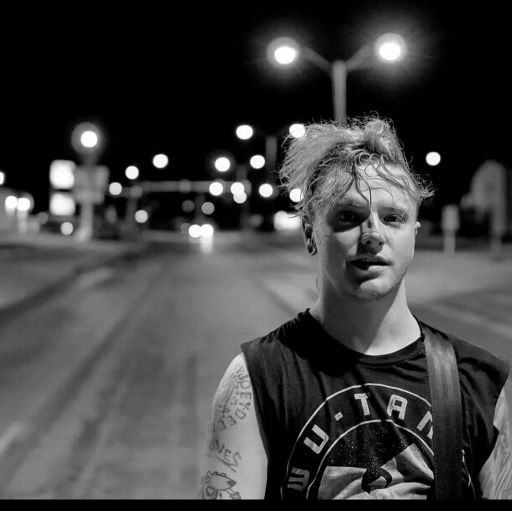 SONGWEB: Could you define briefly the objective or purpose of your work?
TRYINGTOGETBY: Maintain sanity and release demons.
SONGWEB: Do you have any artist relationships, and how do they help you?
TRYINGTOGETBY: I used to book shows, a couple of hundred acts in 5 years. Folk to punk and metal. When I started traveling and playing shows, it was like reverse booking. I hit up bands that I booked before and was like "Yo what's up I'm in your town!" and then I was doing it three times a year to everyone. I glued together a lot of cool bands that didn't know about each other and everyone has helped each other and pushed each other since. The DIY punk community has always been there for me in my hardest times and my highest ones.
SONGWEB: Describe how we can help you advance your career.
TRYINGTOGETBY: Spread the word!
SONGWEB: What have your critics and collectors had to say about your work?
TRYINGTOGETBY: Everyone thinks I've grown a lot since the last ep that was a test run of this one-man ska band thing. I take that compliment great!
SONGWEB: How do you hone your abilities?
TRYINGTOGETBY: I do my best to break free from the stress of the world around me long enough to put into words how I feel. I like to be alone a lot more than I used to. That might be from the sobriety, the pandemic, or my general disgust of the world as a whole over the past few years of clarity. I do have to note that nothing gets this old train chuggin' like a freshly packed bowl.
Listen to "Curse of a Tongue" by Tryingtogetby on Spotify and let us know what you think while you follow him on his social media platforms. Cheers!
https://www.youtube.com/channel/UCrH1SiCZrLtpb7zIpHEktcg
https://open.spotify.com/artist/5IxO8SdBmyI3uRKoqjFTCl?si=x2Xn90C8TGagcOulEyPi3g&nd=1
https://www.instagram.com/tryingtogetbytheband/
https://web.facebook.com/tryingtogetbyband?_rdc=1&_rdr