It is with great pleasure that I return to the blog to dive into Bromsen's masterwork. After our initial experience with them through their third song, "WE!", I am excited to see the release of their fourth single, "Read About It." This song, from their highly anticipated first album "Brothers in Mind," is a touching tribute to the artists who committed themselves fully to their work, living their art even as they suffered personal difficulties. With "Read About It," Bromsen not only pays respect to well-known personalities like Jim Morrison and Kurt Cobain but also puts a light on the unsung heroes whose creativity is mostly unknown to the general public. Let's "Read About It" below.
From the first notes, "Read About It" captivates with its catchy melodies, beautifully framed by a fusion of synth wave and guitar elements. The opening lines of the song, "It's hard to say when you really got it, and they might not see that you really want it," set the tone for a song that not only musically resonates but also digs into the heart of its thematic core. Richard and Karlo Bromsen execute their lyrics with emotional aplomb, infusing each word with a genuine openness that hits home. Their vocal performance strikes the appropriate combination of vulnerability and strength, matching the essence of the song's message and producing an expressive and indelible aural setting.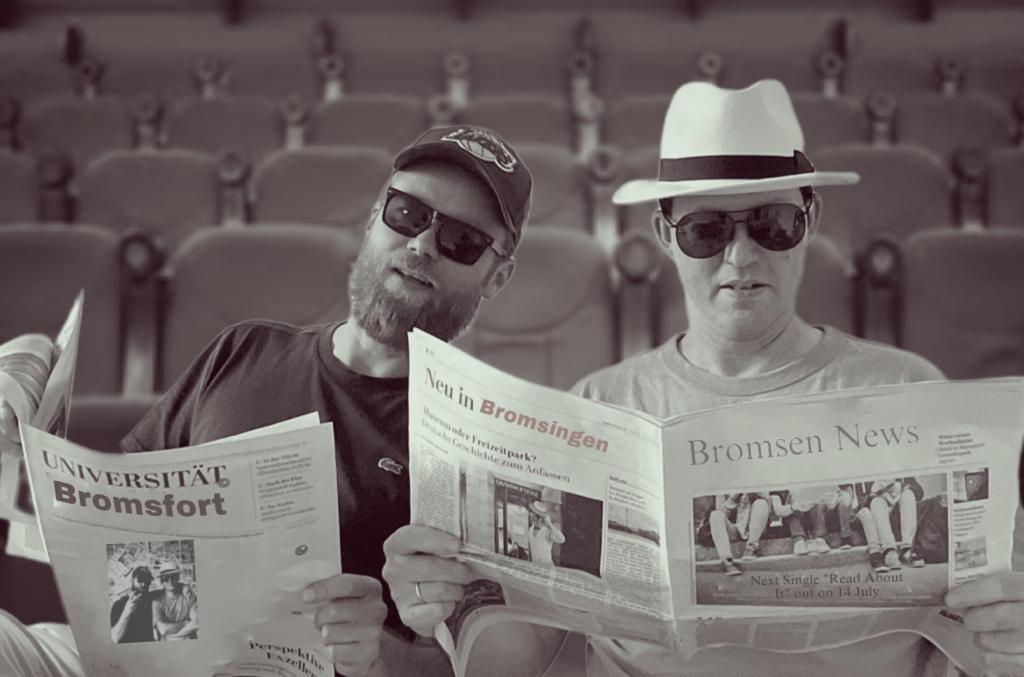 Lyrically, "Read About It" is a heartfelt homage to the artists who devoted their lives to their craft yet tragically succumbed as a result of personal disputes. It honors not just renowned icons like Jim Morrison and Kurt Cobain but also lesser-known, unsung music geniuses whose brilliance sometimes went neglected by the world. The lyrics depict the artists' struggles vividly, including battles with inner demons, the persistent pursuit of recognition, and the pain of feeling misunderstood. It reveals the emotional toll that a life committed to art can impose. Lines such as "I know the wolves have chosen you to lose and play the fool" capture the constant pressure these artists experienced, with the wolves representing the ruthless expectations of the public.
While I'd like to tell you more about the music video, I can only convey it in words. "Read About It" offers a visual feast that complements the emotional narrative of the song. It's a cinematic journey that encapsulates the essence of the song's message. The video introduces us to the unsung heroes' faces while bringing their stories to life with amazing imagery and creative flare. The film, which incorporates lyrics from the song, immerses the audience in a world of passion and pain, honoring the artistic spirit while admitting the darkness that often shadows it.
Musically, "Read About It" is an accomplishment. The fusion of catchy melodies, synth waves, and guitar elements yields an engaging atmosphere that captivates the listener right away. The composition endorses the lyrical theme perfectly, bringing depth and resonance to the emotional narrative that the song aims to communicate. The juxtaposition of upbeat melodies against the weighty premise is a testament to Bromsen's musical ingenuity.
Overall, Bromsen's "Read About It" is a mesmerizing masterwork that defies the limits of music and art. It's a poignant tribute to those who dared to dream, create, and eventually pay the price for their efforts. Richard and Karl Bromsen have once again demonstrated their ability to create an emotional experience that echoes long after the final note fades. As a devoted follower of Bromsen's music, I can declare with certainty that "Read About It" is a stellar addition to their growing repertoire. It's a song that will speak to anyone who has ever been compelled to pursue their passion despite all obstacles. So, dear readers, do yourself a favor -listen to it, read about it, and let Bromsen's music and message wash over you.
Listen to "Read About It" by Bromsen on Spotify and let us know your thoughts.
You can follow Bromsen here for more information.