Lovesick is a Somersworth-based band made up of Goolkasian, also known as The Texas Governor, who has collaborated with the talented painter and chanteuse, Heather Joy Morgan, for their collaborative album, "Hoping This is the End," a nine-track artwork that takes listeners on an emotive journey through an assortment of conceptual love songs that drill into the depths of human emotion and the ever-illuminating the subtleties of love. Despite being constructed amid the fear of pandemic isolation, this album manages to emanate a feeling of unrestricted liberty and playfulness, making it a refreshing and compelling experience. "Hoping This Is the End" was released on April 1st, and the songs will soothe your spirit with the enchantment of love and the joy it provides. Let us review it thoroughly.
"Blue Skies on Mars," with a total playtime of 2 minutes and 53 seconds, kicks off the album with its bizarre sci-fi sing-along nature. The captivating vocals of Goolkasian and Morgan's delicate chanteuse style interact brilliantly, producing a charming combination that inspires listeners to yearn for a Hollywood ending. "Blue Skies on Mars" depicts the power of love to carry us to astonishing realms and feed our yearning for closure and happiness with lines of diligence, moving lyrics of love, and beautiful rhythms all encased in an atmosphere of benevolence.
"Holiday," the album's second track, begins seductively with Morgan's sensuous vocals over a captivating pace that makes listeners seek what the song includes. Goolkasian vocals soon enter and hook listeners with his appealing rich voice as well. In this song, the duo captures the idea of escaping reality by employing love. It's a rallying cry for seizing the present and finding peace in the presence of a loved one in the heart of a turbulent world. The addicting beat and intriguing melodies give a sense of escape and enthusiasm.
Goolkasian and Morgan's third tune, "Nostalgic & Blue," delves into the bittersweet sides of love. This song expertly combines melancholic undertones with ferocious rock and roll vigor. It's a song about the yearning and wanting that comes with remembering old loves, eliciting feelings of longing and introspection. This song struck a nerve with me. It readily hit the mark for me with its immense emotional depth, expertly matched by outstanding musical talent. The vocals, too, exude profound despair and depict the complicated cycle of the song's subject.
"When You Hold Me," the fourth song on the album, is another highlight for me. It starts with some fascinating tunes that sound lovely. The pair produces a sweet ballad in this track that examines the fragility and warmth inherent in an intimate bond. Goolkasian's expressive voice and Morgan's impassioned delivery construct a tapestry of desire, conveying the profound impact of physical and emotional connection. This track's instrumentation impresses as the rhythmic basis, guitar work, and keys all work together to produce a terrific listening experience.
Something is going on in "Something's Going On," and I rank it as exceptional. It's the fifth song and adds an enigma to the album and demonstrates the duo's storytelling abilities, recounting a story of love doubts and the explosive feelings that come with it. The combination of rock and roll sound with a hint of electro-cabaret produces a compelling mood that draws listeners into the story's depths. The match of the musical arrangement and the striking lyrics lends the composition a distinct and unique personality.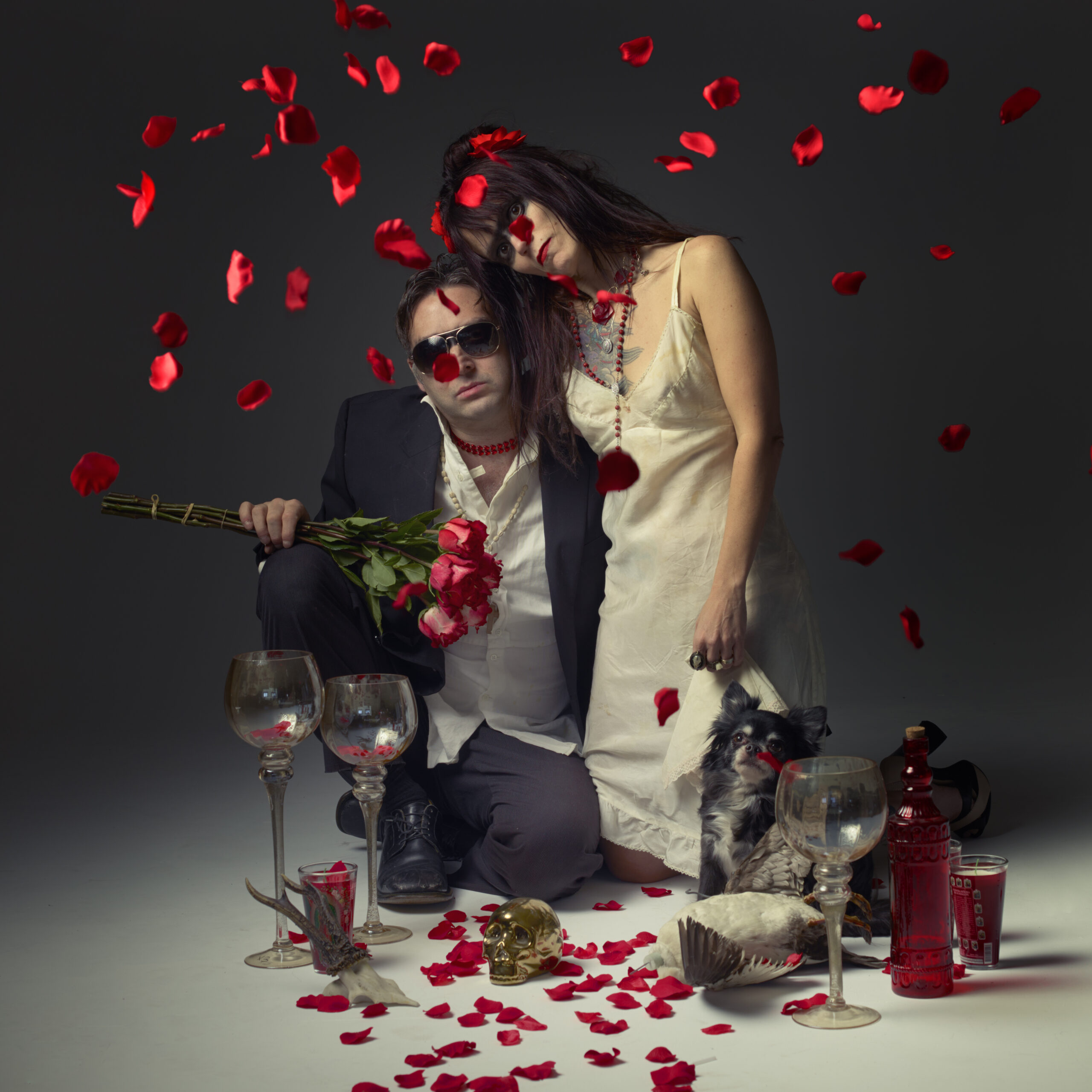 "Please Hold," the sixth song, is a break from the preceding tunes. It is a little instrumental music that lasts only 15 seconds, but its inclusion on the album adds a feeling of humor and fun, making for a remarkable and delightful experience.
"This Is Just Another Love Song," the seventh track, recognizes its simplicity while paying reverence to the regular love song. Morgan's beautiful singing wonderfully matches Goolkasian's introspective lyrics as it depicts the cyclical nature of love, acknowledging the universal feeling of heartbreak while retaining a glimmer of hope for future romance. It's the kind of song you'd listen to when the dark sentiments of love kick in and you want to feel them.
In the eight-song "All This Rock and Roll," Goolkasian and Morgan pay homage to the power of music as a means of expressing love. This song blends enthralling rock intensity with profound words, yielding an amalgam of passion and talent. It serves as a reminder that music can heal, uplift, and connect individuals on an intimate level of emotion. Not only is this song infectious but it's also ardent and heartfelt. The lyrics and vocals are extremely lovely, adding to the song's delight.
"We've Been Down This Road," which closes the album, transports you to another world where you suddenly feel serene and invigorated. It's wonderfully warm and soulful instrumental music that concludes the album on a passionate note, with an awesome speed that I adored. Even though it lacks lyrics but some ethereal voices, anybody who listens to this song will be left with a sense of acceptance and understanding owing to its tenderness and soulful character.
Overall, Lovesick's debut album "Hoping This is the End" is a great debut that showcases their boundless ingenuity and ability to create immersive musical experiences. Each song symbolizes a different aspect of love, from its highs to its lows. With their inventive harmonies, thought-provoking lyrics, and the connection between their voices, Lovesick has delivered a selection of songs that touch on a very personal level, making it a must-listen for music aficionados and romantics alike.
Listen to the "Hoping This is The End" album by Lovesick on Spotify and let us know your thoughts.
You can follow Lovesick here for more information.