Howdy, it's an awesome day, and I'm back on the blog with a project from one of 2022's most productive bands, Love Ghost, located in Los Angeles. This is my third meeting with them, and their incredible craftsmanship never ceases to astound me. They make fascinating music, and this time they released a four-track EP called "Venganza Del Fantasma", which translates to "Revenge of the Ghost" in English. "Venganza Del Fantasma" was released on December 9th and runs for 11 minutes and 12 seconds with a feature from a Spanish artist on each. This offers insight into how the songs were created Let me begin with it below.
"Venganza Del Fantasma" kicks off with the first track, "Ghost Town," which features Santa RM. This song serves as an excellent opener to the EP as it is made with appealing and compelling vocal delivery. It's a song about mental health, loneliness, and the spiritual struggle with one's demons. This is a really important matter to discuss and thus, makes the song pensive. The composition effectively delivered the song's purpose. And, thanks to Mike Summers' eerie production, the vibe is incredibly pleasurable.
Moving on to the second single. "Inferno," is a song that digs deep into the boundaries of our thoughts and souls that some are reluctant to enter. This song tends to fascinate us, and it conveys a hugely vital theme. I deeply appreciate the performance, which brought the lyrics to life with finer details and twists. It lent a deft touch to the tune. However, I cannot ignore the singer's beautifully synchronized vocals and Mike Summers' delightful production. Inferno also featured Conejo.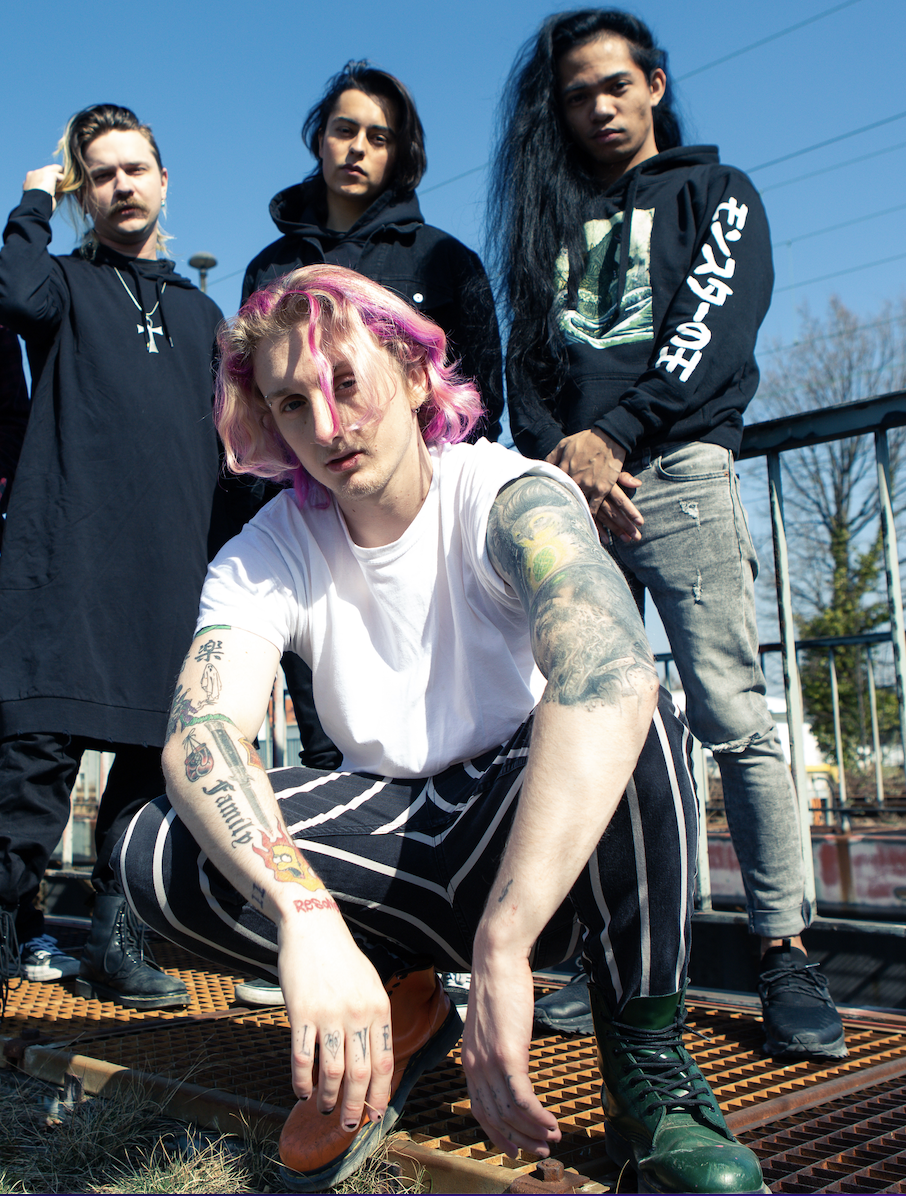 The EP's third single, "AL13N," is another excellent piece. Its beginning will undoubtedly enchant any listener and immerse them in the music. The synths with the electric and distorted guitar accompaniments, as well as the percussion, drive the song in an unforgettable style. As a response, an appealing environment is created. The lead vocalist, Finnegan Bell, and Vanity Vercetti's seductive vocals shine through the song, lovingly portraying the song's theme. That's a lovely string of lyricism and musicianship.
"Pick Myself Apart" is the EP's final song, and it's the appropriate way to end such a wonderful work of art. It features Lou Cornago, a Spanish female Pop artist who does an admirable job with her enticing vocals. Concerning the song's content, the band described it as a disturbing and haunting love song that explores the internal workings of a despairing romantic's mentality. It also has various musical elements that go along well and is an excellent blend of trap and emo pop. The song's vocal delivery is both charming and enticing. This is another Mike Summers production. It's no surprise that I enjoyed the tones, which indicate his expertise in the instruments.
Overall, I was impressed with the percussive sounds in each song, from start to finish. The digital tone of the songs was incredibly detailed and provided a very dynamic and fascinating acoustic atmosphere. The vocal performances were also terrific, with each song's delivery touching the right emotions deep within. Love Ghost has surely closed the year fittingly with "Venganza Del Fantasma," a collection of wonderfully and intelligently composed songs. I'm looking forward to their next release since I'm confident this project will appeal to a wide spectrum of listeners.
Listen to the "Venganza Del Fantasma" EP by Love Ghost on Spotify or SoundCloud and let us know your thoughts.
You can follow Love Ghost here for more information.