Hailing from Toronto Canada, Desarae Dee is an Instrumental Fusion Artist, Multi-Instrumentalist, Producer, Content Creator, and Educator whose mastery and control over instrumentation are outstanding to listen to. She's been in the music industry for 8 years and has positioned herself as a genre-bending and precedent artist with music as diverse as her aesthetic. On December 15th, she released "Holiday Soul," an instrumental ballad that reflects her contagious passion and zeal for music. "Holiday Soul" is well organized and sounds divine. It's undeniably an attention seeker, which spurred us at Songweb to approach Desarae Dee from the other side of the world. Continue reading to learn more about the song.
Songweb: Describe your background and who you are.
Dee: My name is Desarae Dee and I wear MANY hats: I am an Instrumental Fusion Artist, Producer, Composer, Arranger, Content Creator, and Educator. I have been an instrumentalist for 26 years and an artist for the past 8 years. My primary instrument is the piano and I also play 15 other instruments as well. I was classically trained from the age of 6 and raised in the church; I've been playing at my current church for almost 20 years.
Songweb: What inspired you to pursue music?
Dee: My parents saw that I had a musical talent from an early age and put me in music lessons, so they were one of the major inspirations in my life. My dad is a musician and used to sing in a group back in the 80s with his friends from church. I also never saw myself represented in the Canadian Music Industry as well as in the church growing up – I never saw a Black woman artist in Canada who only played instrumental music and I was inspired to make that happen.
Songweb: What is it about music that evokes such strong emotions in you?
Dee: Music is healing for me I've been told by people who have heard my music that it brings them healing. I'm a spontaneous musician who plays how she feels and music just brings out a passion in me that I can't describe at times — I just know that I was meant to do music — it's my purpose.
Songweb: Describe the steps you take to create a new song.
Dee: I don't have a game plan when I work on a song, as that stifles my creativity so my process is not the same every time. However, when I do create a song, sometimes I'll hear the melody and the chords first, then I'll hear a beat and then a bass line and I'll build from there. Sometimes I'll hear the bass line first, then the keys, and then the beats and sounds. I love that my process is different every time.
Songweb: Describe your newest song, "Holiday Soul" for us
Dee: Holiday Soul is a fusion of Jazz, Neo-Soul, and R&B nuances that brings in the feeling of cozying up by the fireplace with a cup of hot cocoa, enjoying the winter scene out the window, and just being present in the moment. It brings out the calmness, relaxed and chill nature of the holidays that we often overlook and that was what I wanted to evoke in this song.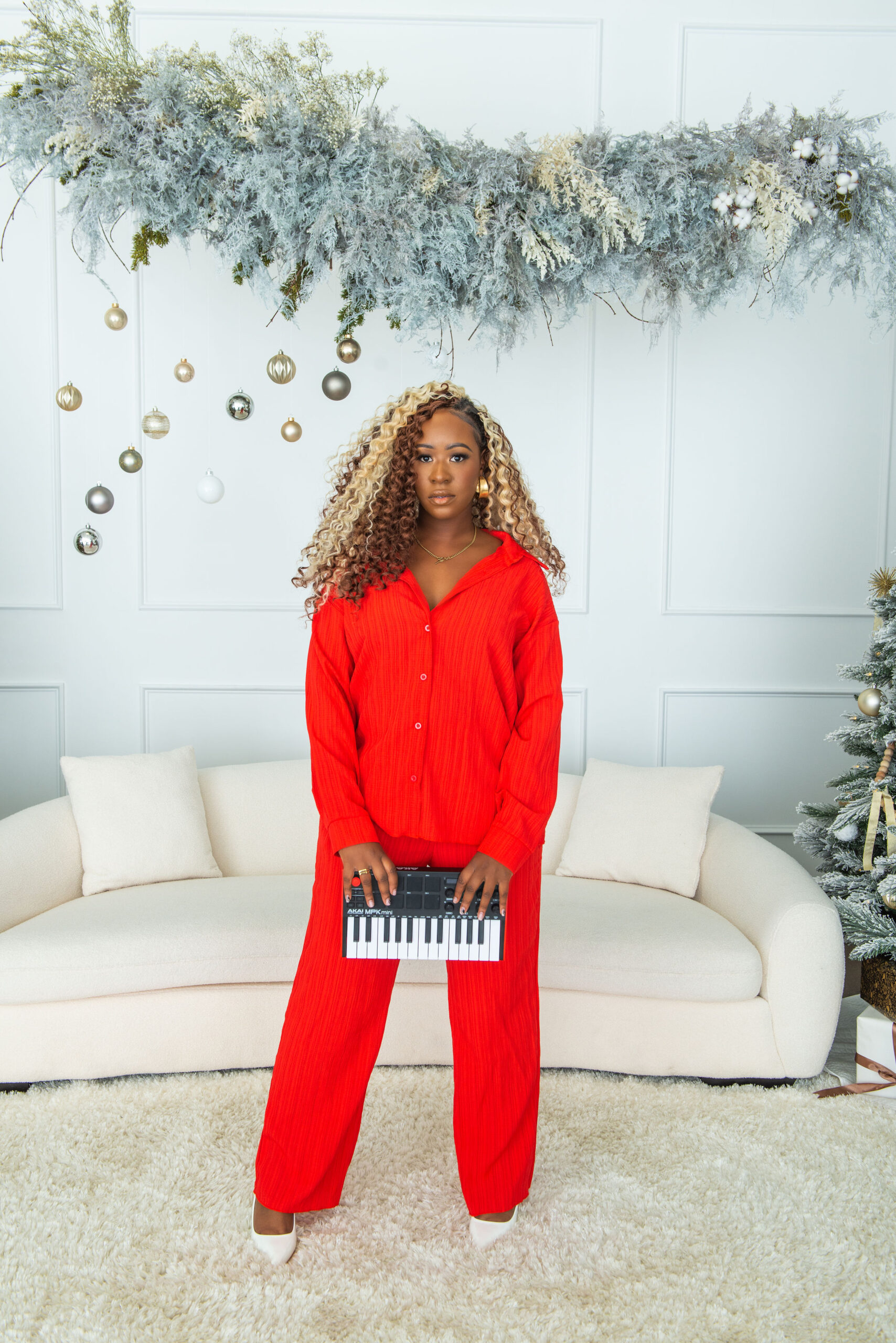 Songweb: What type of societal influence do you think "Holiday Soul" will have?
Dee: I hope that Holiday Soul reaches who it's meant to reach. It's not your typical Christmas Carol, but it is a song that can relate to many people who love the holiday season, who love to chill, who love to listen to music when they study/read in the coffee shop, and who appreciate true musicianship.
Songweb: What do you hope the critics will say about your newest song?
Dee: I hope that others can appreciate the level of musicianship and skill that I bring, as well as how they feel when they listen to Holiday Soul. I appreciate the emotions people feel when they hear my music for the first time.
Songweb: Identify the best and worst aspects of being a musician
Dee: One of the best things about being a musician is being creative and bringing your ideas to life. I love being able to create and allow my music ideas to flow. On the flip side, sometimes as a musician we tend to overwork and overthink, and at times it can be hard to balance music and life, which is something I'm continuing to learn to do because I see the importance of it.
Songweb: What can we do to support your career advancement?
Dee: You can support the advancement of my career by streaming my music and sharing it with others, especially those who can help to further my efforts.
Songweb: Describe your future artistic plans.
Dee: Shortly, I plan to travel and perform more outside of Canada and to release more music (maybe even an album perhaps?) – we'll see how things pan out!
Overall, "Holiday Soul" exemplifies how many genres may be merged to produce something fresh and engaging. The leisurely tempo feels delicious to the ears, especially because the exquisite melodies perfectly complement the ambiance; it's captivating and delightful to pay heed to. Desarae makes an impression with "Holiday Soul," using soft vibes and fluid harmonies to her best advantage. In my viewpoint, the production deserves just as much appreciation as the content. The song flows naturally, with aspects of genuine performance coming through colorfully, and everything is implemented efficiently.
Listen to "Holiday Soul" by Desarae Dee on Spotify or SoundCloud and let us know your thoughts.
You can follow Desarae Dee here for more information.