Rose City Cinema, influenced by MuteMath and Incubus as well as Muse, New Order, and Depeche Mode, consists of Ian Stahl on vocals and guitar, Janzie on keyboards, Eric DeLuca on bass, and Jason Fragoso on drums, and their sound is a modern take of 80's classics. "Strange Chemistry" is the second single from the alternative electronic rock band Rose City Cinema. Featuring gritty synthesizers, catchy vocal hooks, and powerful full band grooves, this song was released on the 26th of July this year.
Ian and Eric formed the band after meeting while playing on the Sunset Strip in 2015, and they began playing together soon after. When they met at CalArts in 2017, they both brought Janzie and Jason on board, and they've since performed at legendary venues such as the Troubadour, the Bootleg Theater, and the Viper Room in Los Angeles, as well as Winston's Ocean Beach in San Diego and PianoFight and the Hotel Utah Saloon in San Francisco.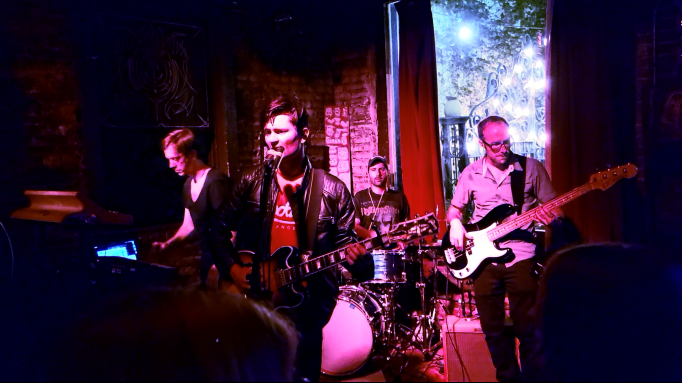 "Strange Chemistry" which begins with muted guitar chords and progresses to vintage drum rhythms is a tremendous delight that listeners will like and the vocalist's lively cadence and passion will make an impact on the audience because of the song's simple lyrics and sentiments presented with immense love and intensity and the vocal delivery also maintains a level of excitement altogether.
"Strange Chemistry," according to the band, drove them to explore deeper lyrically and instrumentally. And, as the title implies, the words of the song explore a powerful and strange bond. We frequently hear about singers looking for that certain someone. In contrast, "Strange Chemistry" delves into the moment when you discover you have them and your brain just can't handle them. It's an enthralling, frantic, and joyous experience.
The song's production is concise and transparent, which facilitates the construction of the intended effects. The orchestration perfectly matches the composition and singing, and the elements rarely eclipse one another, culminating in easy transitions between portions. In addition, the execution adds contrasts, that donate to the exhilaration and purposeful flow of the music as well as establish the milieu.
Listen to "Strange Chemistry" by Rose City Cinema on Spotify and SoundCloud and let us know what you think. Cheers!